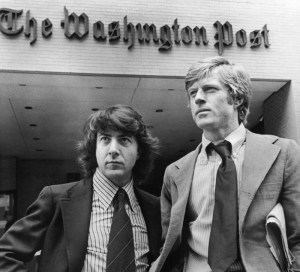 The Washington Post and Bloomberg News are starting a joint news service: Washington Post News Service With Bloomberg News. This follows an announcement earlier this week that The Post and The Los Angeles Times would dissolve their longstanding partnership. Says an article in The Post:
Kate Carlisle, managing editor of the Times-Post operation, said her staff is "very excited" about the new partnership with Bloomberg, which she and her staff will supervise when it begins Jan. 1. "This is a huge bonus for our clients," she said, citing Bloomberg's "focus on the politics of the economy, or the economics of politics."

Carlisle said that clients of the Times-Post service will have a choice, but that two-thirds of those she has spoken to — before the Bloomberg deal was announced — have indicated a desire to remain with the Post service, which will offer 120 stories each day.
On Wednesday The Post and The LA Times "said they were breaking up," according to The Wall Street Journal, or "disclosed their plans to divorce," in the words of the AP. After 47 years together! The Post article calls the Bloomberg match "a more ambitious alliance."