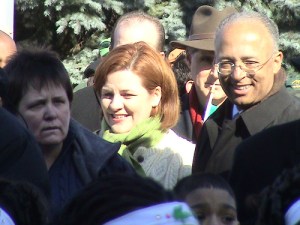 When Christine Quinn said she supported extending term limits, she said it was necessary in order to have the same in place to deal with the fiscal crisis.
"As we move forward in these very difficult times, continuity in leadership will allow our city to continue to work," Quinn told reporters on October 12.
Today, she endorsed Bill Thompson, not incumbent Michael Bloomberg.
How does Quinn square her endorsement of Thompson with her reasoning for extending term limits?
"I think one of my important points about term limits was that it was important for people to have choice and option," Quinn told reporters. "I believe Bill Thompson's been a good comptroller. I think he would be a good mayor and I think it's very important that the Democrats are united."
That last part, hoping that Democrats are "united," is the key here. Quinn's endorsement of Thompson has more to do with placating the Democratic members of the Council, who, for a while, have been grumbling about her reluctance to support a member of her own party and her reluctance to buck the mayor.
Thompson, for his part, said he's glad for Quinn's support, even if he hasn't found time to appear with her. He denied a report implying he's trying to avoid her as punishment.
At a press conference outside City Hall, where he picked up the support of public housing residents, Thompson said he's not avoiding Quinn or rejecting her endorsement in any way. Thompson also said he doesn't consider Quinn responsible for extending term limits.
"The lead person on term limits was Mike Bloomberg," Thompson told reporters. "The person who lied to the people of New York for seven years was Mike Bloomberg."
Thompson said Quinn's people have reached out to the campaign and, he said, "I welcome the endorsement and support of everybody across this city."