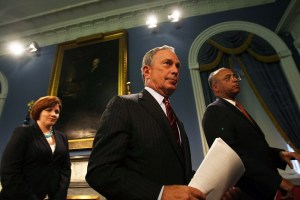 This afternoon, Council Speaker Christine Quinn and mayoral candidate Bill Thompson both acknowledged–separately–that Ms. Quinn had agreed to endorse Mr. Thompson for mayor. The endorsement comes after The Times' "Tip Sheet" reported this morning that Mr. Thompson was dragging his feet announcing the endorsement as "payback" for the tardiness of Ms. Quinn's decision.
Ms. Quinn, a close ally of the mayor, has been noticeably slow in endorsing Mr. Thompson. Before the primary, she said she wanted to wait and see who the Democratic nominee would be; after the primary, she left open the possibility of a Bloomberg endorsement.
Now, amid pressure from other Democrats, whose votes she might need in order to retain her speakership, Ms. Quinn has apparently come around to Mr. Thompson's candidacy.
And now, with a week to go, Mr. Thompson doesn't seem particularly eager to embrace the endorsement. "I welcome the endorsement and support of everybody across this city," Mr. Thompson said today.
Maybe the indifference is payback from the Thompson campaign, but it's also unclear how much Ms. Quinn's endorsement can help Mr. Thompson. Her own showing in last month's primary was not particularly resounding–she only managed 52 percent of the vote in her district. And her name still carries the stigma of last year's slush-fund scandal, so it's unlikely the announcement will catapult Mr. Thompson in the polls.
It also puts Mr. Thompson in something of an awkward spot, since he's based his campaign on the mayor's suspension of term limits, and it was Ms. Quinn guided the mayor's bill through the city council.
With Mayor Bloomberg leading by 18 points in a new poll released this morning, the mayor might not even be upset about losing the battle for Ms. Quinn's endorsement, if it means winning the war to keep an ally as the council's speaker.