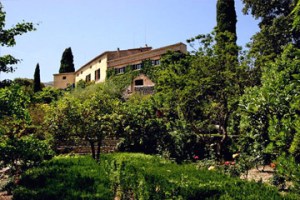 Private villas are a great option when you are traveling as a family or with a large group. Two of my favorites around Mallorca offer a great location and lots of style.
Pedruxella Gran, a Historic Villa & Farm
Shhh … this ancient hilltop estate is a true secret on Mallorca. I only recently discovered this spectacular villa outside the medieval village of Pollença, near the Spanish island's northern coast. I was tipped off to Pedruxella Gran by its owner, Elizabeth Barratt-Brown, a D.C.-based environmental attorney and one of my Insiders. The 620-acre farm and olive grove has been in her family for 40 years, and they've renovated the entire place. The grand farmhouse is ideal for a large family (there's room for a nanny) or for a few couples to share. Elizabeth has quietly started renting Pedruxella to others beyond her circle of friends, and I've got the scoop:
"Pedruxella is an opportunity to go back in time," she told me. "Our fortress-like house is more than 1,000 years old, and includes a 13th-century Moorish watchtower. It's like coming into your own world, surrounded by wildlife and 360 degree views. We've upgraded the house with modern amenities and filled it with traditional Mallorcan furniture and colorful woven fabrics made by local artisans." I love the spacious courtyards and dining terraces that just beg for festive dinner parties, which you can cook up in the gourmet kitchen! Additional authentic flair comes from fireplaces in most rooms, a new pool built into an old grain mill, and the pièce de résistance: an oak beam olive press which they use to produce organic oil. (Go during the fall harvest to pick olives and watch their horse pull the crushing stone around the mill; if you don't require a villa, Elizabeth recommends Son Brull, her friend's hotel nearby.) Keep in mind that Pedruxella is a private home so is largely self-catering. There's an English-speaking caretaker, and a maid comes 2 to 3 times per week to clean, but you'll have to pay her extra to do laundry (or do it yourself in the new laundry room). A chef can be arranged in advance. Elizabeth prefers to rent to no more than a party of 10, and requests that smokers light up outside.
What to do? The house has TV and Wi-Fi, but you'll be exploring the farm full of sheep and gardens. Spend your days hiking, hunting, caving or bird watching, or head to beach coves and golf courses. "There are tons of fun things to do near us," says Elizabeth. "But then you come back from the mad tourist areas to our beautiful, quiet farm with doves flying over the patio in the evening." Ahhh, sounds like paradise indeed! 45 minutes from Palma Airport.
From €4,700 to €6,700 per week depending on season; rents Saturday – Saturday but that's flexible off-peak.
Tip: Mention "Suzanne's Files" when booking and receive a 10% discount in August, September or October 2009, and a 15% discount in other months; additional discounts if you book more than one week. Plus, you'll be greeted with a bottle of Pedruxella's own Extra Virgin olive oil and a basket of seasonal veggies from their farm.
Contact pedruxella@pedruxella.com to learn more about or book a stay at Pedruxella.
www.pedruxella.com | Phone: +34 971 532 625
near Pollença, Vall d'en March, Mallorca, Balearic Islands Spain
El Sueno, Family-Friendly Private Villa in Mallorca, Spain
The perfect villa rental for hikers and nature lovers! This family-friendly, contemporary finca (farmhouse) has a superb location on six acres with gardens and olive groves, and it's near a nature preserve on the north eastern side of Mallorca, Spain. El Sueño is very private, yet you're close to the medieval village town of Artà, and golf, tennis, and great beach coves are all within a fifteen-minute drive. There's no sea view but you'll have a panorama of gentle hills and mountains—sunrises and sunsets seen from there are simply spectacular.
El Sueño is a modern home, built in 2003 by none other than the nephew of famed Spanish artist Joan Miró. It's a great mix of old and new: all the modern amenities you desire—DVD, air conditioning, heated floors, microwave, high-speed Internet, satellite TV, small gym, open fireplaces—plus beamed ceilings and traditional Mallorcan decor and antiques that provide a charming sense of place. Three of the four bedrooms have private terraces for taking in the vistas. Although there are so many great restaurants in Mallorca, you might be tempted to stay home and enjoy a private dinner with family and friends on the villa's terrace or central courtyard. (Ask the gardener to pick you some fresh produce grown on site!) The maid comes daily during the week, and will cook breakfast if you like.
The house sleeps nine adults, plus there are 2 extra cots for kids. Families with little ones will love the children's playroom, and the large, heated swimming pool with a remote-control sliding cover you can close for safety.
Rates from €800 to €1,100 per day, depending on season and number of people; minimum Saturday – Saturday booking required.
NB: El Sueño is already booked from July 13 – 25, 2009.
Contact chr.fahr-becker@t-online.de to learn more about or book El Sueño.
Phone: +49 211 50 30 07
Near Artà, Mallorca, Balearic Islands Spain
Suzanne Aaronson, Co-founder of Suzanne's Files, is our Travel Curator. Stay in-the-know on her latest finds and insider tips by signing up to receive Notes from Suzanne's Files, a free e-newsletter.