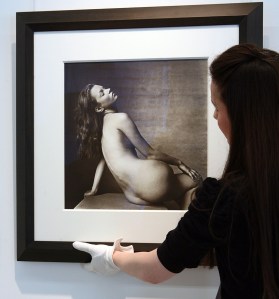 Irving Penn, the legendary fashion photographer, died this morning at age 92.
The New York Times obituary writes about Penn's first Vogue cover, shot just after he started as an assistant to art director Alexander Liberman:
Mr. Penn's first assignment was to supervise the design of Vogue's covers, and he obliged by sketching out several possible photographic scenes. Unable to interest any of the staff photographers in taking them, he took to the photo studio himself, at Mr. Liberman's suggestion. The first result of this opportunity was a color still-life photograph of a glove, belt and pocketbook, which was published as the cover of Vogue's Oct. 1, 1943, issue. Mr. Penn's photographs would appear on more than 150 Vogue covers over the next 50 years.
The Times says that he went on to become "the photographer with the longest tenure in the history of Condé Nast," which, as one more sign of an era ending, won't raise the spirits at 4 Times Square.
Penn was also respected for his work beyond the realm of fashion and commercial photography. The L.A. Times obit goes into the critical response to a 1975 Penn show, which featured pictures of cigarette butts printed using the meticulous platinum-palladium process:
"Beautiful and boring," wrote New Yorker magazine's Janet Malcolm in a review of an exhibit of the butts at the Museum of Modern Art in 1975.

"What might appear to be eroded stone columns or neolithic implements or diseases of the bone . . . are in fact photographs of cigarette and cigar butts."

Other reviewers found Penn's cigarette butts pretentious when they were displayed at the Museum of Modern Art in 1975. Many questioned whether anything by a fashion photographer belonged in an art museum. . .
Far-sighted reviewers, however, praised Penn's ability to turn discarded objects into art. "Each distinct, dirty, torn and ragged reject has been carefully selected, isolated, enlarged and transmuted from a cultural throwaway into a haunting iconic artifact," an Art News review concluded in 1977.
More recently, Penn got press for "Earthly Bodies," a 2002 show at the Met that displayed long-unseen nudes with models quite different than his Vogue subjects. Salon wrote at the time:
The first shots are of a woman with an average June Cleaver body. Then with each new picture, the bodies get plumper. Penn is obviously using several different models. You can recognize one woman's mole, if not the differences in their weight. In several shots, the female torso is puffed up big as some Pillsbury Doughboy, but for many others she is just "Renée Zellweger as Bridget Jones" plump.
Many critics made obvious comparisons to Rubens. Indeed, Penn eschewed photography's potential for rough edges and speed to create images more aligned with traditional painting. Writes The New York Times:
Instead of spontaneity, Mr. Penn provided the illusion of a seance, his gaze precisely describing the profile of a Balenciaga coat or of a Moroccan jalaba in a way that could almost mesmerize the viewer. Nothing escaped the edges of his photographs unless he commanded it.