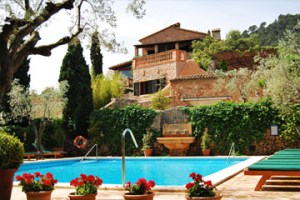 Ca's Xorc
This historic finca and former olive mill, now a pretty country inn, is set high in the hills above Sóller in the northwest of the island, and surrounded by olive and orange groves. Its 12 simply furnished guest rooms have a spare Mallorcan style accented by Moroccan tiles and fabrics; opt for one of the larger "deluxe" rooms with a fireplace, sitting area and a private terrace with views of the pool, gardens, valley and mountains. What the rooms lack in luxury, the restaurant more than compensates for with a wonderful setting in the old mill, delicious regional and Mediterranean cuisine and a very good wine list. In summer months, lunch and dinner are served on the outdoor terrace. There's an infinity pool and hot tub for relaxing, and the hotel can arrange picnic lunches, golf and other activities if you want to head further afield. You'll need a car if you want to reach anywhere with nightlife, but then again Ca's Xorc is about getting away from it all. Thirty minutes from Palma Airport. One of my Mallorca faves…
Room rates from €185.
www.casxorc.com | Phone: +34 971 63 82 80
Carretera de Déia, km 56.1, Sóller | Mallorca E-07100 Spain
Gran Hotel Son Net
This beautiful old finca dates back to 1672. The 31 luxurious bedrooms and suites each have their own color scheme, combining classic Mallorcan arched doorways, timber beams, and canopy beds, with satellite TV and air con. Nice individual touches are the original paintings from artists including Andy Warhol, Frank Stella and David Hockney. All in all, it's no surprise that the hotel has played host to people like the Kennedys, Lauren Bacall and Michael Douglas. Big parties might want to consider the villas, although they are privately owned you get to use all the hotel's facilities, like the two gourmet restaurants and cocktail bar. The formal restaurant is truly, gorgeous in cooler climes, a bit heavy for warmer evenings. The relaxing spa and 98-foot pool will ensure that your stay is a relaxing one, and just about every sport, on land or sea, is within reach; the location is great for nearby golfing and hiking outings. Perfect for both couples and families, my only gripe is the occasional below-par service. A Mallorca great; believe the hype. 12 miles from Palma Airport. Room rates from €200.
www.sonnet.es | Phone: +34 971 147 000
C/ Castillo de Sonnet s/n | Puigpunyent Village, Mallorca 07194 Spain
La Residencia, an Elegant Hotel & Spa in Mallorca, Spain
I've got to start by saying how much I adore Deià, the charming and historic town where Hotel La Residencia reigns. The hotel is set in two former estate homes with stone and ivy-covered façades, and seems to fit in perfectly with the surrounding rolling green and rock Tramuntana mountains; it's a beauty of a structure. Decorated in typical Mallorcan style with lots of white, its 59 rooms and suites are comfortable and tasteful. Families or larger groups might want to book the hotel's new villa, a self-catering, four-bedroom private home a few minutes' walk from the hotel.
La Residencia is the place to stay for tennis buffs. Its two tennis courts with views of the sea are ideal for practicing your swing and improving your game, especially if you book their resident professional coach from Australia. My Insider Mark Hughes highly recommends the coaching there. Other main draws are the hotel's amenities, such as the spa, two outdoor pools, one indoor pool, jacuzzi, steam room and sauna. For beachgoers, I highly recommend the pretty (but rocky) beach a 10 minutes' drive away. Feeling romantic? On a sultry evening, enjoy a tête-à-tête on La Residencia's candlelit inner patio under the trees. Their acclaimed El Olivo restaurant impresses everyone who comes; I always make a point to come at least once in a summer. And don't miss one of the best tapas places a short stroll from the property. See my file on top restaurants in Mallorca. NB: I have a few friends who have been less than impressed with the service here, and others who say quite the contrary. 40 minutes' drive from the Palma airport. Rooms from €225 per night; Villa from €4,500.
www.hotel-laresidencia.com | Phone: +34 971 639 011
Son Canals s/n | Deià, Mallorca, Balearic Islands 07179 Spain
Valldemossa Hotel, a Romantic Boutique Hotel in Mallorca, Spain
This is one romantic getaway in Mallorca. When Frederic Chopin wanted inspiration and relaxation, he would stroll on the property where Valldemossa Hotel now sits, then part of a Carthusian Monastery, and today the area remains as serene and beautiful. Located in the middle of a valley, the hotel offers breathtaking views of the Tramuntana mountains and Palma Bay.
It's centered around two stone houses dating back to the 1800s. Renovations over time have created a modern, elegant hotel while retaining the charm of a country house. With just 12 rooms and suites, Valdemossa Hotel feels very private. Three double rooms and nine junior suites are adorned with antique furniture and local artwork. To relax, immerse yourself in the indoor or outdoor pools, or have a massage in the spa or in your own room. A highlight of a stay here is lounging on the pool terrace with fantastic views. They also have a gourmet restaurant. If you can't resist the call of the mountains, rent a bike or go for a hike. The charming, Moorish town of Valdemossa is a five-minute walk away, and with Palma a scenic, 30-minute drive, a stay at this hotel lets you savor its seclusion with the option of getting out to enjoy the city. Couples will love the ambience—wait till you see the terraces illuminated with candelabras at night! Rooms from €220.
www.valldemossahotel.com | Phone: +34 971 612 626
Ctra. Vieja de Valldemossa S/N | Valldemossa, Mallorca, Balearic Islands 07170 Spain
Suzanne Aaronson, Co-founder of Suzanne's Files, is our Travel Curator. Stay in-the-know on her latest finds and insider tips by signing up to receive Notes from Suzanne's Files, a free e-newsletter.