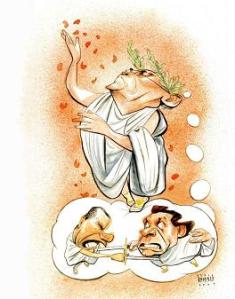 For a brief moment just before last Christmas, Rudy Giuliani emerged as the leading candidate for an unlikely, unelected and very lucrative position: national radio talk show host.
Westwood One, the country's largest radio network, was shopping for a replacement for Bill O'Reilly, who would soon be ending his Radio Factor show after six years, and the former mayor—just 11 months removed from a presidential campaign that cost him more than $50 million but netted just one delegate—was reportedly at the top of their list and in negotiations with them.
But a few days after word of the negotiations leaked, the gig went instead to Fred Thompson, the lawyer-turned-actor-turned-politician who had waged an equally underperforming 2008 White House campaign of his own.
Exactly why the Giuliani talks broke down is still anyone's guess, but it happened at a time when the former mayor was actively looking at a run for governor in 2010, and it's certainly possible that he simply wasn't willing to commit to a long-term contract.
Little did he know that his window for organizing a serious bid for governor was about to slam shut.
THINGS LOOKED CONSIDERABLY brighter for Mr. Giuliani back them.
David Paterson had done well enough, since taking over from Eliot Spitzer earlier that year, to convince most New Yorkers that he was a nice guy and a generally competent governor—resulting in poll numbers that were strong enough to make it almost impossible for the popular and ambitious attorney general, Andrew Cuomo, to justify a primary challenge.
But Mr. Paterson, a wobbly communicator and untested candidate who wasn't identified with any overarching vision or philosophy, wasn't invulnerable by any stretch. In a potential general election, polls showed Mr. Paterson running only a few points ahead of Mr. Giuliani. And that was before the former mayor, a veteran of three brutal mayoral campaigns, had even laid a finger on him.
According to a former aide, Mr. Giuliani had already been thinking for months (since around the time of the Spitzer resignation) about a run for statewide office. And by the end of the year, when the Westwood One talks broke up, Mr. Giuliani found himself pulling close to even with Mr. Paterson in the polls. The governor's race would probably be the last best chance for Mr. Giuliani, at 64 years old, to return to elected office.
Then Mr. Paterson fell apart, and so did the idea of Rudy for governor.
FROM THE START, the whole enterprise was predicated on having Mr. Paterson to run against. But then the governor badly mismanaged the process of choosing Hillary Clinton's Senate successor, eventually having to make the revolting admission that his office leaked damaging information about Caroline Kennedy to the press. The brutal headlines, stretched out over weeks, permanently undermined his standing with voters.
As confidence in Mr. Paterson plummeted, Mr. Cuomo's approval rating surged, thanks to the massive PR dividends that come with being an aggressive and capable (and media-savvy) attorney general.
By the end of January, the Paterson-Cuomo trial heat was dead even—a gain of more than 20 points for the AG in a matter of weeks. From there, it only got worse. A month later, Mr. Cuomo's lead was 26 points. Today, it's close to 50—about where it's been for the past six months. The only suspense on the Democratic side now is when—and under what circumstances—Mr. Paterson will finally admit that the game is up and back out of the '10 race.
Instead of running against a vulnerable incumbent with lukewarm popularity in tough economic times, Mr. Giuliani now faces the prospect of Mr. Cuomo and his astronomical popularity (a favorable rating near 70 percent) in a state that needs an excuse not to vote Democratic. It's a suicide mission.
And so the former mayor has spent 2009 in a political holding pattern, refusing to take the governor's race off the table and hoping that, somehow, Mr. Paterson might reverse his polling slide just enough to force a bloody Democratic primary—or even to scare Mr. Cuomo out altogether.
SOME REPUBLICAN OFFICIALS—dreading the thought of a ticket topped by a name like Lazio or Collins—still fantasize about Mr. Giuliani running. But few seem to believe that it can actually happen.
"When we speak, it's mostly, 'Wouldn't it be great if he runs?'" Mario Catalano, the Ulster County G.O.P. chairman, said of his conversations with his fellow chairmen. "Many of them have said to him, 'Rudy, we need you to run.' I have two state senators here, and both of them have encouraged him to run."
Every time the subject is raised with him, Mr. Catalano said, Mr. Giuliani has been "very noncommittal. He'll say something like, 'I'm giving it serious consideration.' And I think that's very fair."
Vincent Reda, the Rockland County Republican chairman, also wants Rudy to run, but says he's been discouraged by the former mayor's slow decision-making process and shifting timeline.
Back in the spring, "we were trying to get a direct answer from him," Mr. Reda recalled, "but he told us he wanted to wait until July or August. Then he came back in August and said he wanted to wait until after the election period."
He added, "I think we're losing very, very valuable time with waiting and waiting."
Mr. Giuliani was actually the keynote speaker last Thursday at the annual fund-raising dinner for Mr. Catalano's county party—an event that, the chairman said, typically draws about 250 people. This year, nearly 500 showed up—"and we actually had to turn people away."
"The fact that he came to Ulster County," a two-hour drive from the city, "tells me he's at least considering it," Mr. Catalano said.
WHEN CORNERED IN public, Mr. Giuliani has made sure to avoid saying anything definitive. In June, he went on Fox-5 and blasted Mr. Paterson's fiscal stewardship of the state, offering a preview of the campaign he would like to wage. "One of the things that I think is a disaster for the state is the 9 percent increase in spending that the Legislature and the governor brought about earlier this year," Mr. Giuliani said. "That's exactly the wrong direction to go."
At a Crain's breakfast forum in August, he coyly responded to a question about his interest in the race with self-deprecation. And a few weeks ago, he told Meet the Press' David Gregory that he'll make a decision after this November's elections, or "something like that."
(A spokesperson for Mr. Giuliani said that nothing had changed since then, and referred The Observer to his public comments.)
What's most telling, though, isn't Mr. Giuliani's choreographed rhetoric; it's the actions he's refused to take. Case in point: his push this summer to install Henry Wojtaszek, the Niagara County G.O.P. chairman, as the leader of the state Republican Party.
Mr. Wojtaszek was the underdog in the race, with Ed Cox—no friend of Mr. Giuliani's after he endorsed Mr. McCain in the presidential race—racking up numerous early endorsements from the county chairs. Mr. Giuliani's efforts were undermined by his unwillingness to convince the county chairs that he was serious about running for anything.
"A lot of county chairs indicated to me that they would have gone with Henry Wojtaszek if Rudy had committed to run for governor," said Mr. Catalano, one of the few county chairmen who heeded Mr. Giuliani's entreaty to flip from Mr. Cox to Mr. Wojtaszek. "But they didn't feel they wanted Henry in the absence of Rudy."
Mr. Cox won handily.
(The new chairman has since told the New York Times that Mr. Giuliani ought to consider running for Senate against Kirsten Gillibrand. "I think he would have a better chance of winning that race," Mr. Cox said.)
It won't be long now until Mr. Giuliani is finally forced to make a definitive move. But the writing is on the wall. Mr. Giuliani, it turns out, was right when he sized up Mr. Paterson as a political weakling—more right than he ever knew.
"Things are so bad that this is the time he can go in there and make some serious changes," said former Staten Island borough president Guy Molinari, one of the original Giuliani loyalists. "But considering his age, and the schedule he has, I think it might well be his last chance."
—Additional reporting by Azi Paybarah