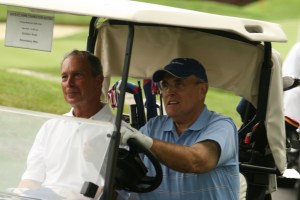 Rudy Giuliani is getting rather mixed reviews for his provocative performance on behalf of Mayor Bloomberg in Borough Park yesterday.
Giuliani said he worried "daily" that "the city might be turned back to the way it was, to the way it was before 1993. And you know exactly what I'm talking about."
Councilman Bill de Blasio–your next public advocate and a frequent critic of both the current and former mayors (and a veteran of the Dinkins administration)–said the cryptic comments verged on "race-baiting."
Mayor Bloomberg was forced to backpedal a bit, although raising the specter of post-industrial Detroit isn't backing very far. The hubbub either complements or overshadows a big endorsement from the largest policemen's union today, leading one to wonder if the mayor really appreciates this kind of outspoken support from his predecessor.
Mr. Giuliani still commands considerable devotion in certain parts of the city, but would those areas would seem to be inclined toward Mayor Bloomberg anyway. The mayor certainly doesn't need the campaign appearances to raise any cash. And with the word Republican being as damning as it apparently is, it would seem to play right into Mr. Thompson's "Democrat for Mayor" campaign.
But after courting party leaders to make certain he would be the Republican candidate on November's ballot, Mayor Bloomberg might have a hard time avoiding Mr. Giuliani. Azi Paybarah says they'll both be in attendance at a Bronx County Republican fund-raiser on October 22 and again at an October 31 event to support Staten Island Borough President James Molinaro, a registered Conservative.