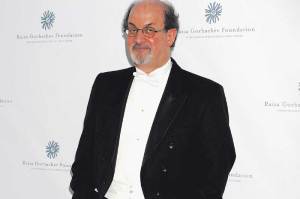 British-Indian novelist Salman Rushdie was one of the first to arrive at the National Arts Awards at Cipriani 42nd Street on Monday, Oct. 5. Known as a champion of freedom of expression, the author ruminated on the current challenges faced by the world of the arts, and the particular struggle of the written word.
"It's very tough right now wherever you look with the arts," he told the Transom, citing Conde Nast's closing of Gourmet magazine.
"You just have to hope that the bottom has been hit. I think there is some reason to believe that it might have been, actually."
Mr. Rushdie said that among upcoming cultural events, he is most looking forward to seeing the new Coen brothers film. "I'm a huge fan," he said.
As for his ex-wife Padma Lakshmi, who announced last week that she is pregnant? "I wish her the best," Mr. Rushdie said.
Later in the evening, he was presented with the Kitty Carlisle Hart Award for Outstanding Contributions to the Arts. "Certainly it's always nice to win," he said. The crowd chuckled.
Also present was actress Kerry Washington, wearing a long black Dior frock tipped with crimson. The actress will make her Broadway debut in David Mamet's new play, Race, this December. "That's the extent of my art world for the next few months at least," she said.
Billionaire art collector and philanthropist Eli Broad, a co-chair of the event, told the Transom he thinks the current administration could take a cue from FDR's. "Roosevelt's WPA did a great deal for the arts," he pointed out.
Actor Robert Redford was later presented with a lifetime achievement award from House Speaker Nancy Pelosi. Los Angeles artist Ed Ruscha, upon receiving an award for Artistic Excellence, joked that the honorees should team up, pooling their talent on one project. "We could make a movie of The Satanic Verses," he said.