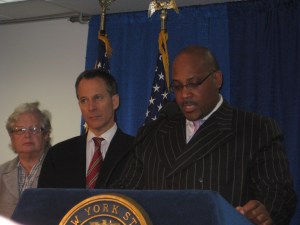 In an upstairs conference room at 250 Broadway this afternoon, Senate Majority Leader John Sampson somberly, but forcefully, defended his plan to commission a nine-person committee–with a Democratic majority–to consider the case of convicted Senator Hiram Monserrate.
"Violence against women is simply unacceptable and will not be tolerated," said Sampson. "It has no place in the world and it has no place in the Senate. No one knows what happened in the dark and for far too many women from every community, every race, every class, this is a very difficult and very real thing. I along with my colleagues in the Senate remain committed to bringing light to darkness."
Sampson was flanked by the committee's five Democrats–committee chair Eric Schneiderman and four women: Ruth Hassell-Thompson, Diane Savino, Toby Ann Stavisky, and Andrea Stewart-Cousins. Earlier, before Mr. Sampson had even taken to the podium to announce the members, Democratic Senator Ruben Diaz, Sr. had criticized the inquiry as racist, and Republican leader Dean Skelos had criticized his Democratic counterpart for not sending the matter to the evenly-divided Senate Ethics Committee, which Sampson happens to chair.
Without mentioning Skelos by name, Sampson defended the Democratic prerogative.
"We are all committed to working with the Republicans in a fair and in a bipartisan manner, but we have to remember that we are Democrats," Sampson said. "We are the party charged by our history, by our common decency, to care for the least, the lost, and the last. We are our brothers' and sisters' keeper. Our conference has to stand up for what is right and against what is wrong. We must bring light to those dark rooms."
The first question from the press directly asked Sampson why he chose to impanel a committee with a partisan advantage instead of sending it to the ethics committee.
"Who said there will be partisan advantage with this committee? The issue is with the Ethics, you can have a deadlock, a 4-4 deadlock. Where do we go from there?"
Sampson said he did not specifically choose women for the panel, which will gather–and possibly hear–testimony and then issue a public recommendation. "I looked at individuals first and foremost that did not make any statements to the media to show their positions or to show their hands, but most of all the members behind me have agreed to be fair, impartial and objective in making their determination," he said.
Later, in an impromptu session with reporters, Schneiderman answered a question about why no Latinos were included. "I think as Senator Sampson stated, he wanted to eliminate anyone who had already taken a position on this issue and he asked senators who would be willing to serve, and some were willing to serve and some weren't."
When a reporter from The New York Times joined late and asked essentially the same question, Schneiderman replied, simply, "asked and answered."
He declined to repeat his answer. "I realize you work for an important paper," he said, "but I'll talk to you later."
Schneiderman explained that the Democratic members would meet with the Republican members to hammer out a set of procedures for the committee, and that would be voted on in the Senate's special session. He said that nothing had been done like this since the 1920s, when the Assembly kicked out five members for being part of the Socialist Party–"fascinating reading," he said.
And he further defended the need for a committee without an even partisan divide. "Anyone who was around in June remembers what even division does," Senator Schneiderman said.