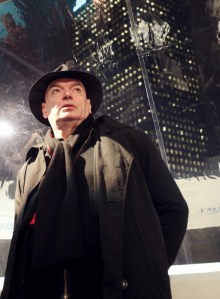 Jean Nouvel wants his 200 feet back. Mr. Nouvel, the bald Frenchman who won architecture's esteemed Pritzker Prize in 2008, engaged in a last-ditch effort on Tuesday, Oct. 6, to save the 1,250-foot height of the tower he's planned to have rise next to the Museum of Modern Art.
Four weeks after City Planning Commission chairwoman Amanda Burden put her own giant stamp on the project, chopping the allowed height to 1,050 feet, Mr. Nouvel went before a City Council subcommittee and pleaded to raise the tower's height back up.
"You have to keep the city alive," he said, speaking with a heavy French accent. "I try to respect the neighborhood. The building is so slim." He was joined in his appeal by the project's developer, the Texas-based Hines Interest, which claimed that a suddenly smaller building—brought down from the level of the Empire State Building to that of the Chrysler Building height—would threaten the economics of the situation.
But still, it wasn't an all-out threat to scrap the tower.
The project manager for Hines, David Penick, was asked by Councilman Dan Garodnick flatly: "Can this building not be built at 1,050?"
His response? Six seconds of silence, followed by: "It's—it's very hard to say."
Much will depend on the market, Mr. Penick added, in an almost refreshing bit of candor compared with the typical developer who comes before the Council and disingenuously pronounces that even the slightest change to his planned building would have an apocalyptic effect on his project.
After the hearing, Mr. Nouvel was kept muzzled by Hines, as Mr. Penick said to him on the way out, "Now, I don't want you talking to reporters."
He didn't.
ebrown@observer.com