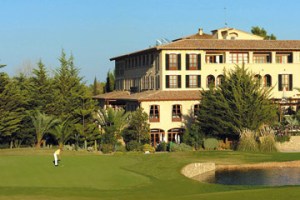 Every summer I escape to the Spanish island of Mallorca for active fun in the sun. I love its year-round great weather and diverse terrain of beaches, countryside and mountains, which altogether make this Mediterranean gem a haven for outdoor enthusiasts. From parasailing to snorkeling in secluded coves, hikes in the stunning mountains, or a round of golf or game of tennis at a fabulous club, your options are endless …
Parasailing & Water Skiing: Virtual Beach Club
This hip little beach club offers parasailing, water skiing, and scuba diving. Arriving by boat? They'll fetch you with their Zodiac service. Have lunch or cocktails on the club's terrace after a day of thrills.
www.virtualclub.es | Phone: +34 971 703 235
60 Paseo de Illetas | Calviá, Malca, Balearic Islands Spain
Hiking Trails
Mallorca is a wonderland for hikers. The mountains and rolling hills of Mallorca are all great for shorter or longer hikes. You'll be surrounded by trees and nature, and you'll find amazing vistas when you reach the mountain tops. Tip: hike the mountain range in the center of the island, starting at Cala Tuent beach and then up through the farmhouse estates. Don't forget to bring a little picnic. Another great hike, recommended by Insider Liz Barratt-Brown, owner of the villa Pedruxella, is to climb to the top of Puig Maria Mountain, which has an old nunnery with a phenomenal view and a little restaurant serving delicious and hearty Mallorcan stews.
Tennis: Sporting Tennis & Mallorca Tennis Club, & La Residencia
It's all about clay courts on this island! The Mallorca Tennis Club is highly rated, but if you're staying in the south west area, I also recommend Sporting Tennis, which has courts above the sea (Carretera de Andraitx, Km 10, Costa Den Blanes; +34 971 675 887). Looking to train with a pro? Book a private session with the highly-recommended Australian coach at La Residencia hotel.
Deluxe Yacht Charters: Camper & Nicholsons
With offices in Palma and Puerto Portals, this luxury international yacht broker is well established on the island. If you're looking to spend your holiday with family or friends on a crewed yacht and sail around the Balearics, C&N will ensure you do it in the utmost style and comfort.
www.camperandnicholsons.com | Phone: +34 971 403 311
Club de Mar | Palma de Mallorca 07015
Yoga: Puro Beach Club & Spa
Operated by Palma's hip Puro Hotel, the Puro Beach club is part Nikki Beach all-white lounge with a pool and party vibe (a bit crowded and sometimes cheesey on weekends), and part wellness center and spa! It sits right on the deck overlooking the sea. A bit odd, but you can drink and party there, and then get up early to hit their gym and early morning yoga classes followed by detoxing reflexology and Indian head massages …
www.purobeach.com | Phone: +34971744744
1 Cala Estancia, Pagell | Palma de Mallorca, Mallorca, Balearic Islands Spain
Yacht Day Trips: Tudor Dawn Schooner
Up north in Puerto Pollença, my Insider Liz Barratt-Brown likes Tudor Dawn, an elegant boat available for day trips and sailing to coves for snorkeling: "They offer great day tours on a 50-foot-long classically designed Brigantine schooner with squaresails and topsails. It's best if you can rent the entire boat." Something fun for a special event or private party!
www.tudordawnyachtcharters.com | Phone: +34 649 875 151
Puerto Pollença, Mallorca, Balearic Islands Spain
Sailboat & Surf Board Rentals: Sail & Surf Pollensa
Also up north in Puerto Pollença, Liz Barratt-Brown recommends Surf & Sail for experienced sailors who want to get out and navigate the waves themselves. This outfitter rents boats ranging from dinghies to yachts with sleeping cabins, although you'll need a captains license to rent some of the more complex vessels. They also can also rent windsurfing gear. If you don't yet know how to sail, sign up for one of their lessons.
www.sailsurf.de | Phone: +34 971 865 346
134 Paseo Saralegui | Puerto Pollença, Mallora, Balearic Islands 07470 Spain
Diving Outfitter & Lessons: Scuba Activa
Based near a nature preserve in the south western part of the island, Scuba Activa is the best dive outfitter in Mallorca, offering intro PADI lessons plus more intense adventures like wreck dives and exploring underwater caves.
www.scuba-activa.de | Phone: +34971402512
7 Plaza Monsenor Sebastian Grau | San Telmo, Mallorca, Balearic Islands 07159 Spain
Sailing Lessons: Calanova National Sailing School
The National Sailing School at Calanova is a great place for kids and adults to learn the basics of sailing. It's also the headquarters for the Copa del Rey de Vela regatta, held in early August, a major event that draws the Spanish royal family.
calanova.caib.es | Phone: +34 971 402 512
Avenida de Joan Miro | Palma de Mallorca, Mallorca, Balearic Islands 07015 Spain
Golf Club: Son Vida
One of the top courses on the island, Son Vida Golf club really has it all. In addition to its par 71, 18-hole course, plus its nearby sister clubs Son Mutaneer and Son Quint, it has a PGA golf school offering classes for all levels plus special programs for women and seniors, a pro shop and a nice clubhouse restaurant. Is your back feeling sore after a day on the tree-lined fairway? Head to the Arabella Spa at the adjacent Hotel Castillo Son Vida and they'll work out the kinks!
www.sonvidagolf.com | Phone: +34971791210
Urbanización Son Vida | Palma de Mallorca, Mallorca, Balearic Islands E-07013 Spain
Suzanne Aaronson, Co-founder of Suzanne's Files, is our Travel Curator. Stay in-the-know on her latest finds and insider tips by signing up to receive Notes from Suzanne's Files, a free e-newsletter.