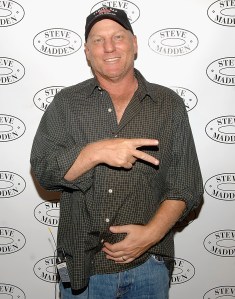 If you can sell lots and lots of mid-priced footwear to teenage girls, you'll have a lot of money to spend on overpriced New York real estate.
This month, the Far Rockaway–born shoe salesman Steve Madden bought a $2.2 million, two-bedroom apartment at 175 East 73rd Street, a townhouse divided into co-ops. Considering that the unit needs work, and has just one normal bedroom (plus a small one), the price was high. "Staggering number—oh, staggering!" said a source familiar with the house. "One bedroom is the size of the interior of a Volkswagen."
"We just wanted the place. We overpaid," said Mr. Madden, who was reached a little before noon on Tuesday, chewing on Cheerios. He and his wife, who have two young children, didn't really haggle with their seller. "We just wanted more space for the kids, that's all," he said. "We came up with a number, and he didn't want to leave, so we probably overpaid to get him to go. He was a good neighbor, despite his Ron Paul stickers. So that was it." Mr. Madden likes his seller, a real estate lawyer and libertarian activist named Mark Axinn, but does not sympathize with libertarians' political proclivities. "It's ridiculous. I mean, what do they think? How do they think the world works?"
The East 73rd Street house happens to be an excellent example of the Italianate-style row houses built in the early 1860s, but, more interestingly, it's where Mr. Madden rented after serving a 41-month prison sentence for stock fraud. In September 2006, he bought his rental—the ground-floor apartment, plus the back half of the second and third floors—for $3.6 million. Did he want a special room with lots of post-prison luxuries? "We just knew we wanted a family, so we had a big, crowded house with kids and noise and toys everywhere. And it's really beautiful. It's a really beautiful thing."
The new $2.2 million deal means that Mr. Madden now has the other half of those second and third floors, so the family would have the entire house to themselves if it weren't for two neighbors in small apartments upstairs. "We'll see what happens. It's a nice building, we'll see."
As it stands now, sadly, Mr. Madden doesn't have a shoe closet, though it's because he doesn't want one. "Me, I'm a simple man, I only have a few pairs. I wear three pairs. My wife has shoes and shoes and shoes. She must have 50 pairs. For a woman, it's never enough." His company's best sellers, according to its Web site, include the Bonanza and Blondee boots; the peep-toe platform Regaal (available in leopard and fuchsia); and Intyce, which have been spotted on Miss USA runner-up Carrie Prejean.
Mr. Madden chewed his cereal happily while he talked. "There's something else in it," he explained. "I don't know what it is—bananas!" As it happens, he and his seller first met to talk about the sale over breakfast.
"We discussed it, and then sometime later he made me an offer," Mr. Axinn said. "Obviously, he made me an offer that I accepted, so that's terrific. I wish them all the happiness in the world."
Their deal was first reported on the Web site Cityfile.
mabelson@observer.com