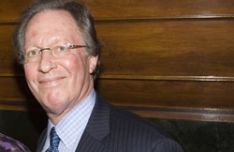 Almost exactly a month after stepping down from his brief post-Doubleday stint as Random House publisher-at-large, Steve Rubin has landed at at the Henry Holt imprint of Macmillan. Mr. Rubin has been named publisher and president of the imprint, thereby leaving current publisher Dan Farley to "turn his attention exclusively" to the children's book division of Macmillan that was formed amid a company reorganization last year. Mr. Farley has been publisher of Holt since 2008, and has since been splitting his time between New York and his home in San Diego.
How Mr. Rubin, the former publisher of Random House's once proud Doubleday division, would follow his long career at Random House was the subject of some speculation in the publishing industry for the past two weeks, with some rumors saying he was set to become an editor of some kind at St. Martin's Press and others saying he would join his friend Jane Friedman in her new e-book start-up. In a statement, Mr. Rubin explained that his track record in publishing books that "bridge the gap between commerce and literature" made Holt a perfect fit.
One presumes that Mr. Rubin is hoping for a more rewarding experience at Holt than the one he got as publisher-at-large at Random House, a position directly under Random House CEO Markus Dohle that most in the industry suspected he would vacate before too long.
At Holt, Mr. Rubin will work with an editorial team headed by Marjorie Braman, who joined the imprint as editor-in-chief in September of 2008.