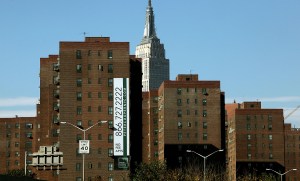 The legal fallout from last week's Stuy Town ruling is already starting.
Tenants of a Morris Heights building are going to court in the Bronx today, arguing that 80 apartments were illegally taken out of rent regulation, and they're citing the Stuy Town decision as precedent, since the two structures were apparently in the same tax abatement program.
Landlords have been predicting a cataclysm since the decision; the president of the Real Estate Board of New York estimated there are between 6,000 and 8,000 apartments that could be affected by the ruling, which means there's likely to be an avalanche of lawsuits in the coming weeks. Real estate attorneys are, presumably, less worried about the uncertainty surrounding the decision.