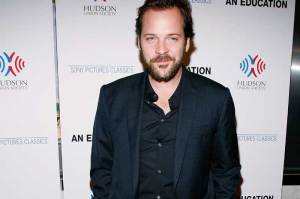 On the evening of Tuesday, Oct. 5, Sony hosted back-to-back screenings of the 2009 film-festival darling An Education at its 56th Street Tower, where anyone who looks out the wraparound windows feels like a power-hungry Rapunzel.
The earlier screening included Tovah Feldshuh, James Toback, Peter Riegert and Bob Balaban, with his writer wife, Lynn Grossman.
Producer James Stern introduced the film, which was directed by Dutchwoman Lone Scherfig, saying, "I'm like the substitute teacher. No one more interesting could be here to introduce the film. So it had to be me."
Afterward, 24-year-old star Carrie Mulligan accepted accolades from Mr. Balaban. "It's always possible to play a character who is less intelligent than you are, but it is almost impossible to play one who is more intelligent than you," he said, somewhat cryptically. "Good job!" (He later told the Transom: "You know, it's like the old character-driven movies. I like these people. I like spending time with them, I am happy to be with them for two hours. You don't get that anymore.")
The Transom asked Ms. Mulligan if she had ever dated someone much older than she, as her character does in the film. She giggled a little and then replied with poise that she didn't have a boyfriend until she was 20, but also confessed: "When I was working at the pub back home, a similar thing happened to the whole car scene in the movie. A man ordered a pint and then after he paid, he wrote on his receipt, 'Dinner?' I went to dinner with him but then I decided it was creepy."
Clutching a napkin full of hors d'oeuvres, Ms. Feldshuh gushed, "Even the smaller actors were great. Like that girl who plays the idiot. What is her name?"
"Rosamund Pike."
"Well, she was just fantastic, because, well, you really thought she was an idiot."
Actor and Park Slope parent Peter Sarsgaard, who plays the older man, joined Ms. Mulligan to introduce the second showing of the film, and then made his young costar laugh as he demonstrated how he had "shaken his butt" at a taping of The Jimmy Fallon Show earlier.