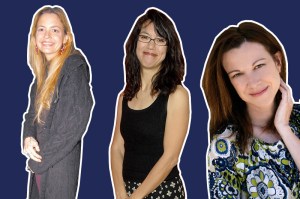 In March of last year, The Atlantic published an essay by Lori Gottlieb titled "Marry Him! The Case for Settling for Mr. Good Enough," which Ms. Gottlieb wrote when, in her idealistic search for the One, she found herself alone in her 40s with a son she had via a sperm donor. A book based on the article will be published in February and has already been optioned by Tobey Maguire for Warner Brothers, with Jill Soloway (Six Feet Under) writing the screenplay.
The following year, the magazine published another essay by Sandra Tsing Loh, 47, announcing the end of her 20-year marriage—she had an affair—and cautioning readers against what can happen when your husband considers mastering the perfect bouillabaisse recipe a more titillating activity than giving his wife an orgasm.
Meanwhile, remember Prozac Nation author Elizabeth Wurtzel, who once sat crouched on the floor, a young girl staring up at readers through all that self-conscious eyeliner? Now 42, Ms. Wurtzel wrote a piece in Elle this year about her fading beauty and the lonely dating life that accompanies it. Never too shy to turn herself inside out on paper, she is expanding the article into a book.
Now about me: I am 25 and single. If this were the 1950s, one of my multiyear relationships would have resulted in marriage by now. If this were the 1980s, I would concern myself only with purchasing a really nice shoulder-padded suit. Our mothers and grandmothers seemed to have sound instructions. But now—now that the generation of women ahead of us has begun to sound regretful, shouting at us, "Don't end up like me!"—what we have instead are Cautionary Matrons, issuing what feel like incessant warnings.
'It must be very confusing. … You just have a bunch of drunk, depressed 45-year-old ladies going, "A-BLAH-BLAH-BLAH!"' —Sandra Tsing Loh
Single 40-something women warn us about being too career-oriented and forgetting to factor in children; married women warn us that marriage is a union in which sex and fidelity are optional; and divorced women warn us to keep our weight down, our breasts up and our skin looking like Saran Wrap unless we want our husbands to later leave us for 23-year-olds.
Essays written by Cautionary Matrons are one of the few genres dominated by our gender; Laura Kipnis' Against Love: A Polemic and Cristina Nehring's A Vindication of Love, which landed on the cover of The Times' Book Review, also come to mind. Not that men are strangers to personal narratives, of course. There's Jonathan Ames, whose frank tales of his sexual adventures have landed him on HBO; and New Yorker writer Tad Friend, who as part of the research for his recently published memoir went on the self-absorbed quest of asking exes whether he was "a mild jerk or a total jerk." But while men tend to be cheerfully self-deprecating, women are downright apologetic, asking themselves what they've done wrong and how to fix it.
Cautionary Matrons extend beyond nonfiction. In Lorrie Moore's new novel, A Gate at the Stairs, the protagonist, a 20-year-old college student named Tassie Keltjin, looks over at the older woman who has hired her to be the baby sitter of a baby she has yet to adopt into an already lonely marriage and makes the following observation: "These middle-aged women seemed very tired to me, as if hope had been wrung out of them and replaced with a deathly, walking sort of sleep."
And then there is ABC's new show Cougar Town. It's meant to tease out the empowering side of being 40 and single. But few viewers actually want to a visit a place where even someone as MILF-y as Courteney Cox self-tauntingly tugs the goose skin on her elbows—isn't elbow skin supposed to be loose?—and refers to her vagina as a "coochie cooch." And there is Jennifer Aniston. She's not the Cautionary Matron; it is the hidden tabloid editor who sends her threatening missives by blowing up Ms. Aniston's thighs alongside headlines shrieking: Old! Alone! Childless!
Of course not all women are unhappy, despite that recent General Social Survey cited by Maureen Dowd and Time (and disputed by Barbara Ehrenreich in Salon). Tabloid-media powerhouse Bonnie Fuller instructed women on how to have the job, the guy and "everything else you've ever wanted" in her 2006 book, The Joys of Much Too Much. But how many others are encouragingly passing along the handwritten recipe of their success to us, their younger counterparts? Where are the role models less frightening than Bonnie Fuller?
'GET MARRIED BY 32'
Last week, I brought all of this up to my friend Jenny, who is 29, single and works in publishing. We were at her Williamsburg apartment and she was making pork chops.