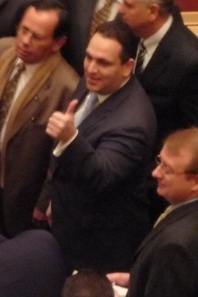 ALBANY—State Senator Hiram Monserrate is guilty–but not guilty enough to automatically lose his seat or throw the already-unstable chamber into complete disarray.
Already there are rumblings in the chamber to have a committee review the matter; under the Legislative Law, senators could then approve Monserrate's expulsion.
"Hopefully he would step aside on his own and not have to go through the committee process," State Senator Marty Golden, a Republican who has criticized Monserrate repeatedly, said.
"There's a whole series of issues here that would leave one to believe that he acted improperly. Nobody should be above the law, least of all a man that is going to be drafting legislation to protect women when he is an individual convicted of assaulting a woman her in the city. What signal does that send to women across the city, the state?"
Clearly one that is awkward for the chamber's Democrats, who went into immediate hedge mode, and will face the politically sticky scenario of having to sit beside someone convicted of assaulting a woman.
"We have to move forward and weigh the various options," State Senator Jeff Klein told me. "We have to look to see, following the letter of the law, on how he'll be treated based on prior circumstances and other members of the legislature who were convicted of misdemeanors."
State Senator Diane Savino echoed Klein's sentiments, adding the conviction is "not a petty crime." An official statement from Conference Leader John Sampson (who's in China) said that Democrats "respect the decision rendered" but are "discussing the potential for further disciplinary action."
"There is no doubt that this has been a troubling situation for all those involved," Sampson said in the statement, "but the Senate will continue to move forward and fulfill its duty."
We are spared the return to complete chaos that would have ensued if Democrats were reduced–albeit temporarily, until a special election was called–to a 31-member caucus that could not pass bills requiring majority approval. Many politically difficult votes like last spring's budget and a bailout for the M.T.A. passed along party lines. But any hearings will no doubt be a distraction from official business, including efforts to address a mid-year budget imbalance.
Golden said that if Monserrate does not step aside, hearings should "advance as quickly as possible."
The Senate is not currently in session; David Paterson indicated earlier he might call a special session to deal with budget cuts on Oct. 27.