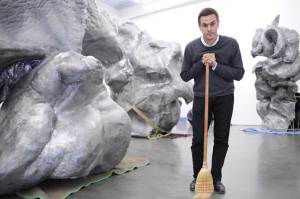 Massimiliano Gioni knows how to get what he wants. This is a skill that has served him well over the past few months in his capacity as the curator overseeing the artist Urs Fischer's takeover of the New Museum. Putting together Mr. Fischer's logistically treacherous installations, which will open as a show called Marguerite de Ponty on Oct. 28, has required Mr. Gioni to field all of the artist's mad demands, discourage him from insisting on them, and finally convince the museum's administrators of their feasibility. It has been a delicate dance.
"Urs says, 'If they built the pyramids with no electricity and no engines, anything can be accomplished. It's usually just a matter of time and resources,'" the young curator said last week over espresso at a café down the street from the New Museum. "I think it's a really good point."
Mr. Gioni's method of persuasion, he said, involves a gradual, tenacious pushing that eventually causes whoever has been telling him "no" to get excited about the outlandish thing he has asked of them.
"Everybody wants to be convinced," Mr. Gioni said. "Usually people say no the first time around because they're bored, or because they don't want to bother. But when people get signs of excitement, I think they get carried away."
Three days later, Mr. Gioni was at the New Museum, crouching on a wooden dolly amid several giant aluminum sculptures while the museum's exhibitions manager, Hendrik Gerrits, worked on the opposite side of the room on mounting a subway seat and a magnet-powered floating birthday cake made of polymide onto one of the walls.
"He works every angle to get what he wants, and he's good at it," Mr. Gerrits said, while Mr. Gioni posed for some photos. Speaking softly and slowly, he offered a recent example involving a wall that Mr. Fischer and Mr. Gioni wanted installed on the second floor. "Everyone in the museum agreed that it was a bad idea," Mr. Gerrits said. "Not for aesthetic reasons but for building reasons. And for the past three weeks we've been fighting about it."
"Well, I wouldn't say fighting," Mr. Gioni interjected cheerfully. "I've been told 'no' for three weeks."
In the end, however, Mr. Gioni appealed to New Museum director Lisa Phillips and her deputy, John Hatfield, and when Mr. Gerrits came into work on Monday morning, the two of them "came down with Massimiliano and decided that that we should start building the wall that very second. So we did."
Ever since he got his start in the art world as an editor at the influential bimonthly magazine Flash Art in Milan, Mr. Gioni has enjoyed an extraordinarily swift rise as a curator, holding titles that most people his age—35—only fantasize about. By the time the New Museum recruited him in February 2006, he had already worked on the Berlin Biennial for Contemporary Art, Manifesta 5 in Spain, and the 50th Venice Biennale. Last year he helped curate the New Museum's Younger Than Jesus show, which showcased artists under the age of 33, and since 2002 he has been the director of the Trussardi Foundation, a non-profit that commissions avant-garde art work and mounts shows in non-traditional exhibition spaces around Milan. (Some of the more outlandish stunts Mr. Gioni has overseen there include sending a 90-foot helium balloon of a naked man flying through the skies, installing a house made of bread by Mr. Fischer in a church, and hanging three puppet children made by the satirical artist Maurizio Cattelan from the oldest tree in Milan.)
In his current capacity at the New Museum, Mr. Gioni says he is devoted to promoting radical art, and to putting on shows that people love even though they can't understand them.
"There's this brilliant quote by Gilles Deleuze," he said, "where he says that all the greatest artworks seem to be written in a foreign language.'… For me not getting it is part of the excitement."
In this way, Mr. Gioni is a sort of populist obscurantist—a guy whose outlook might provide comfort to anyone who has ever stared at a work of contemporary art and not known what to think.
"In a society and a culture in which everything has a message and everything has a meaning and everything has a purpose," he said, "I think we should cherish things that are obscure, that are directionless, that are useless, that are complicated beyond reasonable levels. That's the greatness of art– even in New York, where everything has a price."
He looked around at Mr. Fischer's towering aluminum sculptures. "I think these are obscure, but they do something to you on a physical level that anybody can understand. I think audiences are much more intelligent than we like to depict them."
Mr. Gioni's parents were not interested in art. His father worked at an ink factory, and his mom taught grade school. Though the family visited churches on holidays, he said, it was not because they were enchanted by them on an aesthetic level but because they were Catholic.
Growing up outside Milan in a town he likened to Newark, Mr. Gioni found himself drawn to art precisely because there were no adults talking to him about it. "It didn't belong to the school or the teachers," he said. "It was mine."
When he was 14, he started reading the Futurists and the Dadaists—he can still recite by heart Tristan Tzara's Manifesto of Mister Antipyrine—and listening to Sonic Youth, Fugazi, and Dinosaur Jr. He also started looking at the pictures in Artforum and Flash Art, and loving what he saw "because it was so strange."
"I remember how weird looking at all those images and reading that stuff was," he said. "My interest in contemporary art had to do a lot with not understanding it."
Mr. Gioni loved this feeling of bewilderment, and he continued chasing it at the University of Bologna, where he studied art history and semiotics. He liked that the avant garde rewarded strangeness and obscurity. "It was like, 'These guys can say whatever, and it's OK!'"