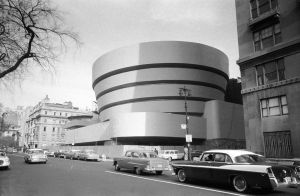 The Guggenheim turns fifty today and is offering free admission to celebrate. There will be Guggenheim memorabilia, ranging from free to not free, such as Guggenheim cookies and Guggenheim jewelry by Harry Winston. Characteristically, there will also be as much Kandinsky as possible–not one but two exhibitions currently hanging focus on the museum's favorite artist.
Or, if you prefer your celebrations in the form of long lists, the Daily News presents 50 facts about the museum. The best of the items are midcentury commentary on Frank Lloyd Wright's building itself:
– "A war between architecture and painting, in which both come out badly maimed."

– "An indigestible hot cross bun."

– "An inverted oatmeal dish." (Robert Moses)

– "An atmosphere on the unbroken wave." (Frank Lloyd Wright)

– "It's going to make the Metropolitan look like a Protestant barn." (Frank Lloyd Wright)
Time bore out Wright's faith in his design, if not his predictions about the Met. By the time the museum commissioned Gwathmey Siegel & Associates to design an addition in the eighties, Times critic Paul Goldberger was worried about "a major incursion into one of the greatest buildings of the 20th century." But in due time, that too became OK: when architect Charles Gwathmey died this summer, the Guggenheim addition was among his best-known projects.
So go, enjoy the cookies and the Kandinsky, and wonder what Matthew Barney would have done if he hadn't had Wright's spiral to romp in.