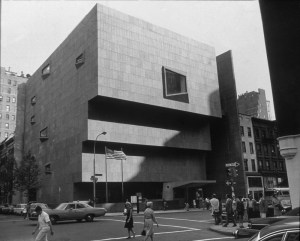 The Whitney Museum has signed a contract with the New York City Economic Development Corporation to buy space for a new museum near the High Line entrance. At $18 million, the price tag was about half the property's appraised value.
The Whitney has been trying for years to expand beyond its Marcel Breuer-designed building on the Upper East Side, and had been thwarted by uptown neighbors before reaching an agreement for this space three years ago. The economic climate has changed dramatically since then, but the museum calls the move crucial:
A second museum is critical to the future of the institution, [Whitney Director Adam D.] Weinberg said, adding: "This is the only way we can continue to justify building a collection. We simply don't have enough space to show our holdings. And since at least 60 percent of the art we acquire comes through gifts, it becomes more difficult to ask people to donate works if we cannot show them."

Most of the Breuer space is devoted to special exhibitions, Mr. Weinberg said, with only about a quarter of the building left to display art from the permanent collection.
In any case, the big exciting High Line seems like an auspicious place to begin an ambitious development. The Whitney now has four years to close and five years to begin building.