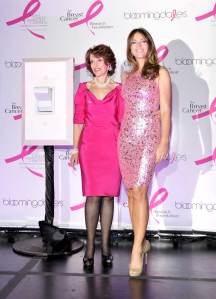 It was Monday, Oct. 12, 8:30 a.m., and on the set of CBS's Early Show in midtown, the socialite eminence Evelyn Lauder and the actress Elizabeth Hurley were sitting in the green room, getting their hair sprayed, their lips painted and their faces dabbed with foundation.
They were there to talk about the Breast Cancer Awareness campaign of Estee Lauder Companies, where Mrs. Lauder is the senior corporate vice president and Ms. Hurley is a spokesperson. They both wore pink: Ms. Hurley a ruffled pink blouse with black trousers, and Mrs. Lauder a pink coat over a black dress and a weighty necklace made of silver-colored glass, netted and on a ribbon, by Oscar de la Renta. "A lot of things are on ribbons this year—it's very hot," she said later.
Right before the two were escorted outdoors for the segment, a producer approached Ms. Lauder's publicist: "How does Ms. Lauder like to be called?"
"Mrs. Lauder," the publicist replied.
"Mrs. Lauder," who is 73, was born Evelyn Hauser in Vienna, from which she escaped with her parents during World War II. "It was a very dramatic story," she told The Observer. "The ship on which we were sailing was one of three in a convoy that went the North Atlantic route, but that route had been mined by the Germans, and the first ship hit a mine and exploded, and we had to take in the survivors."
In New York, Evelyn attended Hunter College High School and Hunter College. During her freshman year at the latter, a friend invited her to a party to meet two young men the friend had met over winter vacation in Florida. The friend wanted "Bob" to be her date, and so Evelyn would have to go with the one named Leonard. His mother Estee sold makeup; he lived on 77th Street; and he was in graduate school at Columbia.
'Do you text, Evelyn?' Ms. Hurley asked Mrs. Lauder. 'No. I like handwriting and I like voices,' she replied.
"Leonard came to my house to pick me up on West 86th Street, he met my father and I went to this party," Mrs. Lauder said. "When I came home, my father was waiting for me, so I thought something happened because he never waited for me. I said, 'What happened to Mom?' He said, 'Nothing happened to Mom. I just wanted to tell you, that is a nice boy.'"
Mr. Lauder departed for the Navy. But he began phoning Evelyn regularly while away and asked her out for dates when he returned home on weekends. "The problem was that if you didn't have a date by Tuesday, you were a wallflower," she said. "So I always had a date Friday or Saturday night, so he would be my Sunday afternoon date. One time he taught me how to drive in a parking lot at Jones Beach. He had a Plymouth. I didn't release the hand brake and I burned out the lining of his brakes!"
They married in 1959, at the Plaza in front of 150 guests. Since then, Ms. Lauder has become a philanthropist of the scale of the late Pat Buckley and Lady Astor, donating money to the Central Park Conservancy and New Yorkers for Parks, and establishing the Leonard and Evelyn Lauder Foundation with her husband. Then, after a breast cancer scare in the '80s—she was never actually diagnosed—she shifted her efforts, raising $18 million in 1989 to open the first Evelyn H. Lauder Breast Center of Memorial Sloan-Kettering's Cancer Center; helping to create those Pink Ribbons; and founding the Breast Cancer Research Foundation (BCRF). And earlier this month, the Lauders' foundation gave a gift of $50 million to open the new Evelyn H. Lauder Breast Center, three times larger than the first.
AFTER THEIR Early Show appearance, the ladies got into their red Lexus and headed to Fox's Good Day New York, where Ms. Lauder ran into makeup artist Bobbi Brown, CEO of Bobbi Brown cosmetics, which the Lauder company bought in 1995.
"Bobbi! What are you doing here?" said Ms. Lauder, embracing her, and then turning to The Observer. "Bobbi is part of our family."
Estee Lauder started out selling four products: all-purpose cream, creme pack, cleansing oil and skin lotion. But since Mr. Lauder joined his mother's business, in 1958, it has grown to include the beauty brands Aramis, Bumble & Bumble, Clinique, La Mer, MAC, Origins, Tom Ford Beauty and Sean John fragrances. After Evelyn married Leonard and left her job as a schoolteacher in Harlem, she, too, joined her mother-in-law.
"She was very chic, very well dressed and had a beautiful home," Mrs. Lauder recalled of her first meeting with Estee. "At their house on 77th Street, she had an all-white living room, from the carpeting to the silk on the couches to the draperies to the walls. I had never in my life seen an all-white living room!"
Mrs. Lauder added: "She was very welcoming. I would have never [worked for her] if she wasn't. She said, 'Someday this will all be yours. I'd really love you to do this with me.'"
The Lauder family members hold the majority of the stock at the public company. Mrs. Lauder's son William is the executive chairman (son Gary is a venture capitalist based in Silicon Valley); her nieces Aerin and Jane work there; and the elder Mr. Lauder is chairman emeritus. Mrs. Lauder, meanwhile, keeps an office and two assistants, and meets weekly with the fragrance development heads. She would not disclose her salary: "I don't even know what it is, if you really want to know the truth."
At Fox's studios, where Ms. Hurley changed into a different pink blouse, the ladies ran into Sopranos actor Vincent Pastore. "E. Hurley. We were in Mickey Blue Eyes together. Hello!" Ms. Hurley said to Mr. Pastore, jutting out her hand. "What are you doing here?"