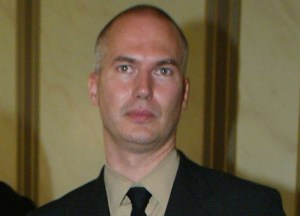 P.S. 1 has a new director—only the second in its history, writes The Times. Klaus Biesenbach, who has held curatorial positions at both P.S. 1 and MoMA, was "a self-evident choice. . . Far and away the most qualified person for the job," in the words of MoMA director Glenn Lowry.
The Observer profiled Biesenbach back in 2007, when he became chief curator of the new MoMA media department. He was an intense guy:
"He doesn't have his own family," said the performance artist Marina Abramovic, who has known Mr. Biesenbach since he was 21 years old. "He sacrificed a very large part of his private life for the work. Basically, all his life is the work."

In the early years of their acquaintance, the two experimented with a romantic relationship, despite the 20-year gap in their ages (she just turned 60 last November). "It was a very short time, yah, yah, about three months," she said in her sumptuous Slavic accent. "It was really a disaster. It was really funny. We devoted three months together, and we decided we can have like a 'house life.' He would make the apple pies, but they were always burning!"
And in January, W magazine toured Biesenbach's rigorously spartan apartment, providing another glimpse into the world of Klaus:
"Small objects make me nervous," says Biesenbach, 42, looking around his apartment on New York's Lower East Side, which is notable for its lack of not only small objects but also large ones. The living room has no sofas, tables, pillows, books or lamps; the kitchen has no countertops, cookware or appliances, apart from a $99 mini fridge. As for beds, there is a mail-order mattress in the bedroom, but Biesenbach prefers to sleep on the one on the outdoor terrace, weather permitting.