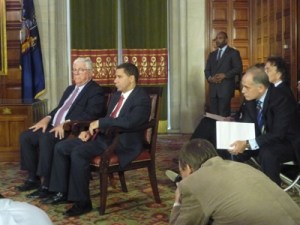 ALBANY—About 60 percent of David Paterson's proposal to bridge $3 billion of a growing budget imbalance consists of spending cuts; the rest are "one-shot" revenue deals, some of which are estimated.
Paterson also relies on $400 million from tax amnesty and Medicaid fraud reduction, numbers that are somewhat tenuous. Paterson is also now budgeting $200 million from a contract to develop video slot machines at Aqueduct Race track; a contract that has been on the verge of approval for years. Elizabeth Lynam of the Citizens Budget Commission told me these figures are "estimates right now, and at best they're one shots."
"They're subject to failure. They had a higher number originally for the VLT transaction, and obviously that deal went south. So they've looked to now reduce that amount," Lynam said. "Medicaid fraud is the same way. At various points in time, these targets have been increased. Although those targets used to be more suspect."
Paterson acknowledged that the Medicaid target is "certainly ambitious" but said that "because of the increased participation, we think we could increase the fraud recovery. But we have a reasonable estimate, and we're nowhere near these ridiculous Medicaid fraud recoveries that you see in these legislative plans."
The tax amnesty, he said, was calculated based on average returns for similar programs. State Senator Jeff Klein proposed a similar program this spring to fund a property tax cap, but it was not implemented. Klein told me he was "very happy" to see the proposal, and that Paterson's projection was the same as his. Klein said there is about $4.2 billion in owed taxes, and most states that offered similar amnesties reaped returns of around 10 percent.
"$250 million is a very conservative estimate," he said.
Paterson stood by the VLT projection saying it's "about the money that particular firm's offering; as soon I can get the leaders together I think we should be at the end of the Aqueduct process."
But the deal requires approval of legislative leaders, which is of course never a certainty.
Paterson's plan also relies upon $300 million from the Battery Park City Authority, which the autonomous housing corporation has been loath to give him. Another $26 million will be swept from the coffers of the Dormitory Authority, $10 million will come from the Environmental Protection Fund and $90 million in off-budget funding will be allocated from the proceeds of regional greenhouse gas auctions.
The state projected it would gain $220 million from RGGI auctions this year; yesterday Paterson signed a bill that would allocated $112 million toward a revamped weatherization program. Matt Anderson, a spokesman for the budget division, said there is currently $155 million in the bank and "we fully believe we'll be able to accommodate both of them."
Jack Morris, an associate with Environmental Advocates, said, "Instead of using the money to reduce utility bills for businesses and consumers, the governor is throwing this money into the black hole that is New York's general fund."
"Everybody's going to have to sacrifice here," Paterson said during his presentation.