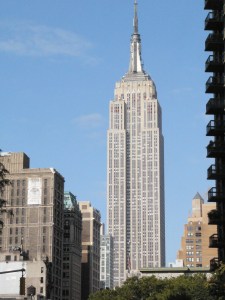 FiDi Lots for Sale
Marcus & Millichap listed a 9,317-square-foot development site in the financial district. The property is three assembled lots totaling 154,000 above-grade buildable square feet and zoned for hotel, office residential or retail development. The addresses are 21 Ann Street, and 109, 111 and 113 Nassau Street. Steven Siegel and Adelaide Polsinelli are representing the seller, a local private investor.
Newmark Knight Frank Gets ESB Leasing Nod
Newmark Knight Frank was appointed leasing agent of the Empire State Building by owner W&H Properties. CB Richard Ellis resigned the account in early October after Steve Eynon, who was in charge of leasing, left for Jones Lang LaSalle, reports Crain's. There is still 600,000 square feet of vacant space, with nearly 2.9 million rentable feet, despite the leasing of nearly 600,000 square feet since January 2007. The owners have been consolidating tenants by creating larger blocks of rented space, and have reduced 560 tenants to 300 in the past few years. Crain's reports that Newmark's Billy Cohen, who is in charge of leasing One Grand Central Place, will lead the ESB effort.
Trump SoHo Sets a Date
Trump SoHo New York, a new condo-hotel, will open on Feb. 1, 2010, at 246 Spring Street, according to a report on the blog Curbed. The 46-story, 391-room glass tower between Varick Street and Sixth Avenue is a collaboration between the Trump Organization, the Bayrock Group and the Sapir Organization. Construction began in November 2006.
56,100 City Jobs Lost
Eastern Consolidated reports 56,100 jobs lost in New York City in September. Of that number, 32,300 jobs were local government jobs that were temporary summer jobs, but 23,800 were private sector, the highest loss since December 2008. Losses were concentrated in two categories: private education, which lost 19,200 jobs, attributed to seasonal adjustment; and restaurants, which lost 3,400. However, employment services added 1,400 jobs, suggesting the worst job losses are past.
Thompson's Mega-Development Philosophy
Comptroller and Democratic mayoral candidate Bill Thompson called Battery Park City a model for mega-developments during a Crain's breakfast on Oct. 15. The project was developed parcel-by-parcel, in contrast to Mayor Bloomberg's initiatives, such as Willets Point, Coney Island and Atlantic Yards. Mr. Thompson said he favored staged development instead of relying on one major developer.
Deutsche Sues Swig for $11.3 M.
Deutsche Bank is suing developer Kent Swig for $11.3 million, according to The Real Deal. The bank claims Mr. Swig borrowed $6.8 million in March 2007 in two separate loans, and another $5 million in October 2007. Then he defaulted after paying only a small portion, according to the suit.
Disney Moving to Times Square
Disney is moving from 711 Fifth Avenue to Times Square, reports the New York Post. The entertainment company's lease will end in January, and it is in discussions with Vornado Realty Trust about a 14,000-square-foot space at 1540 Broadway, the former home of Virgin Megastore. Disney has also been negotiating for 22,000 square feet at 1604 Broadway, a former nightclub that was closed down after a death.
N.Y.U. Med Lease at 14 Wall
N.Y.U. Medical Center signed a lease for the entire 35,000-square-foot ninth floor at 14 Wall Street, reports the New York Post. It has occupied the 10th floor of the same building for the past year, which has half the space of its new lease. Asking rent was in the high $30s per square foot. Daniel Ghadamian, principal of owner Capstone Equities, says the occupancy is 96 percent. Mark Mandell of Cushman & Wakefield represented N.Y.U. Brad Gerla, Howard Fiddle, Jonathan Cope, Michael Higgins and Evan Haskell represented the landlord.
Mortgage-Related Liens Jump
Commercial-mortgage-related liens, generally foreclosure lawsuits, doubled in September to 15 from August, and mechanic's liens rose to 286, up 25 percent from August, reports The Real Deal. According to data from PropertyShark.com, both figures are up but remain below peak levels seen during the downturn. Sources say lenders are trying to work out loans, and construction activity has declined, both of which have limited liens. Mortgage-related suits are filed to force a sale of property to recoup nonperforming loans, while mechanic's liens are publicly recorded claims of nonpayment.
Bloomberg on Silverstein, WTC
Mayor Bloomberg told The Villager that his hands are tied at the World Trade Center site. He said that developer Larry Silverstein's lease and agreement with the Port Authority cannot be challenged. "Larry has everybody by the proverbials-he really does," Mr. Bloomberg said. "He can stretch this out for many years, use all of his money, and we can wind up with nothing. Nobody likes it, but that's the truth." Construction of the WTC Memorial, which Mr. Bloomberg does control, was on schedule, he said.
$41.6 M. Helmsley Estate Sale
The estate of Leona Helmsley sold two East Side properties for a combined $41.6 million. The properties were a 4,178-square-foot retail condo at 760 Third Avenue, and an apartment building totaling 114,500 square feet at 44 East 48th Street. The buyers were a partnership with principals in Mamaroneck, N.Y., and Los Angeles. Helmsley, who died in August 2007, has an estate worth an estimated $8 billion.
Citigroup's Commercial Losses
Citigroup reported losses in commercial real estate of $594 million in the third quarter, up from $354 million in the second quarter, reports the Wall Street Journal. Other assets, such as residential mortgages, had smaller losses compared to the second quarter's. Commercial real estate lags behind the entire market by one or two years, as leases run out and rents are renegotiated. Citigroup had a $1.87 billion loss overall in the third quarter, down from $6.82 billion in the third quarter of 2008.
rli@observer.com