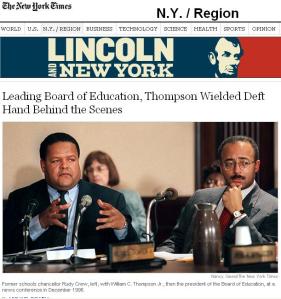 The New York Times went up today with a generally positive story about Bill Thompson's time at the Board of Education, which ran under an unconditionally positive headline: "Leading Board of Education, Thompson Wielded Deft Hand Behind the Scenes." It was an uniequivocal refutation of the Bloomberg campaign-generated narrative of Thompson as an ineffectual hack whose passivity made him responsible for the many failings of the public school system when he was on the board.
Later, though, the headline was changed to the more muted "In School Post, Thompson Was a Conciliator." Which is respectful enough, but very, very different from the first headline in transactional terms.
Acting on a hunch, I asked a Bloomberg campaign spokesman if anyone from the campaign had contacted the paper to complain about the original headline. The spokesman said that no one had.