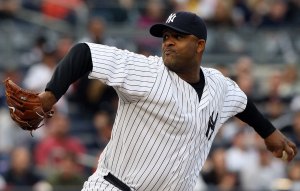 The Yankees play tonight, and the most dramatic story line is that Jorge Posada won't be catching because A. J. Burnett pitches better to Jose Molina.
Mike Lupica laments the fact that there's not really any compelling story line yet about the Yankees' first-round series against the Twins. All the papers are on it, and they all say the heat is on Burnett to perform since he's keeping Posada, that beloved mainstay, on the bench. And, of course, if the move fails, then we're in for a couple days of stories about how Joe Girardi screwed the whole thing up.
There's still a chance Posada will be in the lineup, if Girardi decides to let him DH over Hideki Matsui. In the Daily News, Flip Bondy tells us it's Matsui who most deserves a title since he came all the way from Japan to play in a country where he doesn't really know the language and he still hasn't won a championship. "All of Japan frets for him," Bondy writes. It's a pretty interesting story. Did you know there are 20 Japanese reporters who cover Matsui? And that if he leaves the Yankees for another team, a lot of them will have to move to wherever Matsui decides to play?
The Dodgers-Cardinals series is shaping up to be more dramatic—or it was last night, at least, when Matt Holliday dropped a soft line drive that would have ended the game. The Times' keyboard-wrenching lead says Holliday was the "enduring image of the Colorado Rockies' heart-stopping run toward the World Series" two years ago, but that last night he was "the heart-wrenching visage of dropped opportunity."
The Angels didn't miss any opportunities cleaning up the Red Sox 5-0, but you wouldn't know from my copy of the Daily News, which didn't stay up late enough to include the West Coast finish.
In football, there's some good trash talk. Black players don't want to play for the Rams if Rush Limbaugh buys them. And Dolphins' linebacker Channing Crowder has moved on from talking about Rex Ryan to talking about Leon Washington and Mark Sanchez.
"Every time he sees me, he starts cussing," Crowder said [of Washington]. "I see him and I start cussing. It's going to be like that the whole game."

"Sanchez is probably the only person I haven't cussed out, because he's a rookie," Crowder said. "He'll get cussed out this week."
In response, Washington says, "Clam Chowder."