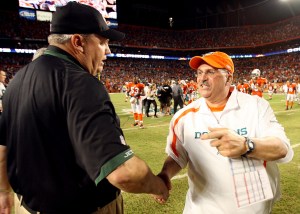 The Jets lost on Monday Night Football last night to a trash-talking division rival with an unproven backup quarterback and, sometimes, no quarterback at all. Considering that, the morning papers go relatively easy on them.
In the Post, Steve Serby tweaks the usual "Gang Green" into "Gang Groan," and tells us to blame them and head coach Rex Ryan. Serby tells us that under no circumstances should we blame this on the Jets' young quarterback, Mark Sanchez. "Don't blame this on 'Sanchise'" reads the headline.
This raises a question that really should have been settled by now. Is it Sanchise or Sanchize? We're in Week Five and there still seems to be some confusion about this portmanteau: Do you take the "s" from franchise, or the "z" from Sanchez? Tough call. If you search the Daily News site, you pull up two articles with the word Sanchize and one with Sanchise. The Post doesn't show any results for Sanchize, so I guess they're going with Sanchise. I'm partial to the Z, personally, so I'm rooting for the Daily News' editors to win out on this one.
In any case, most of this morning's articles–including Serby's–praise the team for playing so well on offense. Sanchez set the bar pretty low in that last game, so everyone was glad he looked decent and didn't turn the ball over. But the real kudos go to new receiver Braylon Edwards, who had a big game only a few days after the Jets traded for him. "That was the one thing we did right last week — making the trade for him," Ryan said.
Ryan comes in for the lion's share of the blame, since he's been touting himself as a defensive mastermind. The Post called his D "sieve-like" and said Ryan looked "dazed" after the game, which might be why he went for that old saw: "We couldn't stop the run or the pass. Other than that we played great."
There are, of course, plenty of articles about the Yankees this morning, but with a full four days until they play again, let's wait on that.
The real surprise this morning is that the Knicks check in with an interesting bit of news. Apparently, coach Mike D'Antoni has canceled the morning shootaround on game days. "Knicks Change Routine and Cut Commute" says the Times' headline, which goes on to tell us that it would take Al Harrington a full 40 minutes to get from Edgewater, New Jersey to the teams' practice facility in Westchester, and he doesn't need that kind of hassle. The Times doesn't mention that Harrington will make $10 million dollars this year.
"Just trying to get them with more energy," said Coach D'Antoni, who has a very young team–with no players over 30.