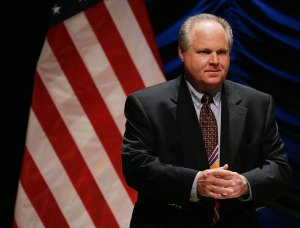 Those Battles for the American Soul are usually left to the other pages–front, politics, and lately, business. But this morning, we get one in the sports pages, with news that Rush Limbaugh has been dropped from a collective bid to purchase the St. Louis Rams.
Several players had said they would rather not play for someone who has compared their sport to a brawl between the Bloods and Crips without the guns, and the Reverend Al Sharpton spoke out against the bid last week. Commissioner Roger Goodell prefers a minimum of controversy, so it's not entirely surprising that Mr. Limbaugh won't be in the owner's box anytime soon. But, according to Mr. Limbaugh, this isn't about any of that.
"I am a subhuman species with no right to exist outside these radio waves," the Daily News quotes Mr. Limbaugh as saying on his radio show after the news. The Post, quoting his on-air comments, gives him a longer rope:

"This is not about the NFL, it's not about the St. Louis Rams, it's not about me," Mr. Limbaugh said on his radio program. "This is about the ongoing effort by the left in this country, wherever you find them, in the media, the Democrat Party, or wherever, to destroy conservatism, to prevent the mainstreaming of anyone who is prominent as a conservative. Therefore this is about the future of the United States of America and what kind of country we're going to have."
In the Daily News, Flip Bondy–who apparently maintains infrequent e-mail contact with Mr. Limbaugh during football season–reminds his readers that the other principal partner in the deal, former Madison Square Garden president Dave Checketts, isn't exactly a politically correct bleeding heart. "Hey, Olden," Checketts once heckled Olden Polynice. "You're leading the league in stolen VCRs."
No, Bondy doesn't seem particularly impressed with Checketts, who he says has somehow "turned himself into a respected metrosexual, into a multisport, entertainment guru."
There's a lot of hand-wringing around the Yankees too, with only one day until they finally start their second round series against the Angels. Are the starters good enough? Will the rain wreck Manager Joe Girardi's plans for a three-starter rotation? This seems to be what happens when you have a five-day intermission in the middle of the playoffs. There'slots of interest, and therefore lots of space that needs to be filled by baseball stories. But there's actually not that much to write about.