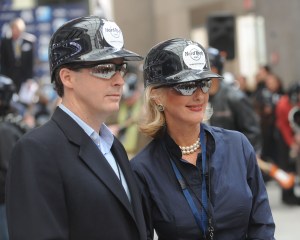 He's not exactly the Gipper, but all your sportswriters are very concerned with the Yankees winning this World Series for owner George Steinbrenner. "One for the Boss," says the Post's back cover. (Their front cover is really something else: A composite shot of Shane Victorino with a cheerleader skirt and some mis-matched white legs and the sub-head "The Frillies Are Coming to Town!")
It's not like the Boss doesn't have his share of rings. As Kevin Kernan reminds us, this would be his 7th–"7/11 for the owner who was born on the 4th of July. You have to like those numbers," he writes.
The Daily News gives us another interesting number detail, concerning how Joe Girardi chose his uniform number. "Mr. Steinbrenner deserves another championship," Girardi said. "That's why I wear this number (27). We're trying to do this for him." There are lots of quotes like that in all these stories, which is probably good policy.

The Steinbrenner kids get some good ink too. "Let's Hear it for the Boys," says the Daily News' back cover, and Mike Lupica says the young Steinbrenners are the Yankees' real MVPs. And he's got The Straw That Fetches The Drink backing him up.
George A. King III hints at an answer to my question from yesterday about whether Hal Steinbrenner will inherit his dad's nickname. He ends his story with this: "Just ask The Boss: old or new." So there you have it.
No one is happy with the Knicks' boss, on the eve of a season that most expect to be historically bad, since General Manager Donnie Walsh gutted the payroll to make room for LeBron James. Charles Barkley weighed in yesterday, and a commenter e-mails Peter Vecsey. "The Lebron countdown is very entertaining. I always enjoy watching time tick away."