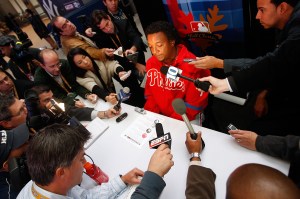 Tough morning for you sportswriters. After all, what do you write about when the Yankees get so utterly shut down that it's hard to single out anyone to blame? C.C. Sabathia pitched well enough, but Phillies pitcher Cliff Lee threw a one-run complete game, and that was that. The Post says Lee had an "evil arsenal and control good enough to consistently hit a gnat's backside." And that's basically the story of the game, but of course, your sports editors had all hands on deck so you get it repackaged about a dozen different ways.
The real tension comes in the stories about tonight's game when Pedro Martinez takes the mound. Martinez said yesterday that his infamous brawl with portly Yankees coach Don Zimmer came about because Zimmer made some comments about Pedro's mom. So, the Post called him.
"What's he talking [about]. What the hell, it's been so long ago. I went on national television the next day and apologized and I said Pedro had nothing to do with the fight, that it was my fault. I can't say anything more. What else can I do? I am not going to kiss anybody's [butt]."
They're more conciliatory over in Jets land this morning, where Mark Sanchez's curious decision to eat a hot dog in the fourth quarter on Sunday is somehow still in the news. The Jets are treating this like a full-blown scandal, and Sanchez is donating 500 hot dogs and hamburgers to a soup kitchen in New Jersey. "Something happened here and I wanted to turn it into a positive," Sanchez told the Post. Rex Ryan sums it up:
"I was disappointed in it and he certainly wasn't meaning it in a disrespectful way, but I don't want to take anything away from the league, his teammates or the game," Ryan said. "It is unfortunate. We have a great game, run for 300-some yards, have a breakout game, a 38-0 score, get a shutout, and now the focus is on the hot dog."
Your basketball teams should be so lucky. Perhaps the Knicks should have gotten Eddy Curry to eat a hot dog in the fourth quarter of last night's game; they got pounded by the Heat, while the Nets dropped a close one.