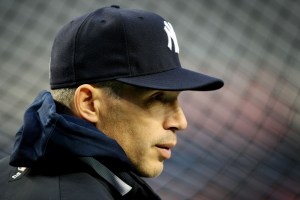 No one is very happy with Joe Girardi this morning, after his eighth pitching change backfired in the eleventh inning last night. In the Post, Mike Vaccaro brings in almost as many metaphors as Girardi had pitchers: the Yankees' manager is a kid opening Christmas presents, then he's a Little League manager, then a button-pusher and lever-puller, and then a gambler shooting craps. All in the first three paragraphs, but Vaccaro rides the last horse all the way to his kicker:
Last night there was no joy in Yankville. Bones Girardi had crapped out.
The problem, it seems, is that Girardi was too reliant on spreadsheets and probabilities–"the razor's edge of technology," as another Post story tells us. The Daily News goes a little easier on Girardi; Mike Lupica's column recounts the tactical moves without much invective. The headline writers call it "poor penmanship."
The Times takes a longer view of burying Girardi with a story about "the pitcher who used to be Joba Chamberlain" under the headline "Chamberlain Proves to Be No Match for Rally Monkey." The Rally Monkey is a monkey, decked out in Angels gear, that's shown on the big screen when the Angels are down in the late innings, and a stuffed version is sold in droves at the Angels gift shop. The Times says the Yankees wouldn't even glance at the Monkey's "simian antics" on the scoreboard last night, and yet it seems to have had some effect on them. The whole story is sprinkled with Rally Monkey references:
On Monday, Jeter turned his back on the Rally Monkey. But the Yankees cannot turn their back on the many innings worked by their bullpen in the last two games.
And speaking of Derek Jeter, Joel Sherman in the Post wonders if he and Alex Rodriguez "still remain the best of frenemies." I still don't completely understand that term, but you don't see it in a sports column very often, so there you have it.
The Giants and Jets are still smarting from their respective weekend debacles, and no one is saying much. Even the voluble Rex Ryan has suddenly gone quiet. He does tell the Post that he might dumb down the offense for rookie Mark Sanchez, who's thrown a league-leading 10 interceptions in the first six games.