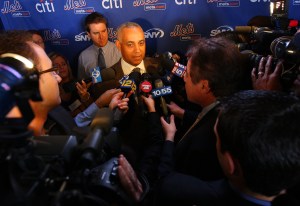 It's Day Two of the offseason for the Mets, and your sportswriters want blood.
Under the headline "Break up the Mets…PLEASE," the Daily News says that the "comically oversized protective helmet" worn by David Wright after a brutal August beaning "might have been too big for his head – but it certainly fit the Mets' season" (kind of like Joe Girardi's haircut has helped define this year's Yankees), and they have an online poll where you can vote on whether the team should keep each of 23 different players and staff. The 87 percent of people who want manager Omar Minaya gone probably aren't going to be very happy, since Minaya is still standing after the team re-shuffled some lesser coaches, including third base coach Razor Shines, who had by far the best name on the team. "For now, the grounds crew and the ushers appear to be safe," the Times jokes.
In the Post, Joel Sherman is already telling us not to blame Alex Rodriguez if he continues his string of playoff failures (hitless in his last 18 postseason at-bats with runners in scoring position), because the Yankees, as you may know, have a whole host of other highly paid players. "I am here to say it is about time that we all stop using A-Rod as a convenient scapegoat should things go wrong for the Yankees in October," Sherman writes. That seems sort of unlikely, doesn't it? Sherman ends with a question-mark kicker: "Can A-Rod's teammates help Rodriguez help himself?"
I think Steve Serby is saying something along those lines about the Jets and Mark Sanchez. The team insists they aren't worried and they're all rallying around him to bounce back after Sunday's "Nightmare on Overwhelm Street." He'll get some help on the other side of the ball from linebacker Calvin Pace who returns from a performance enhancing drug suspension. Rex Ryan seems rather happy about it.
"I wasn't going to kiss him on the lips, but I thought about it," Ryan told the Times.