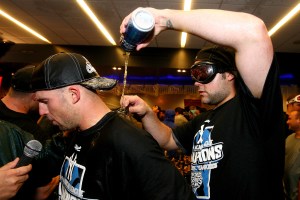 The Yankees finally closed out the Angels last night, so a lot of this morning's stories lead with the champagne-soaked locker room. It's the first time the Yankees have made the World Series in a while, and everyone seems to be missing George Steinbrenner, because all the papers give us a report on Hal Steinbrenner, who was standing in for his dad in Derek Jeter's ceremonial dousing.
The Daily News goes with an anecdotal lead about Steinbrenner looking for a beer amid all the champagne, while the Post goes for something more metaphorical. "When it comes to possessing a thirst for winning World Series, the apple didn't fall far from the Steinbrenner tree. Instead, it hugged the bark on the way down," writes George A. King III.
But what about that beer? Well, fortunately, the Daily News circles back, just like they teach you.
[Steinbrenner] said he did not spray anyone himself but mused, "I would like a beer." Reggie Jackson, standing nearby, said, "I got you, Boss," and quickly returned with a frosty can.
This raises an interesting question: Will everybody start calling Hal "The Boss" as his father becomes less of a presence around the clubhouse? Boss or no Boss, must be nice having The Straw That Stirs The Drink fetch you a drink.
You've also got a whole slew of Alex Rodriguez redemption stories, now that he's finally in the World Series for the first time. It's basically the same story that's been written throughout the playoffs, with the World Series thing tacked on. The Post seems to like that story line quite a lot; it's got Mike Vaccarro doing double-duty with two columns of plaudits.
The Yankees coverage eclipses a bad day for the Giants–whose offense was "reduced to a smoldering rubble of ash" in a loss to the Cardinals–and some more unusual behavior by the Jets. Mark Sanchez decided to eat a hot dog on the sideline in the fourth quarter. "This was no great sin. Sanchez was hungry. The wiener was available," Flip Bondy writes. Then, having run all over the lowly Oakland Raiders, Sanchez and Rex Ryan decided they would give a Gatorade bath to Bill Callahan, an assistant coach. It's an odd move for a routine October win, but Ryan was apparently very, very happy. "This is as good as it gets," Ryan said after the game.