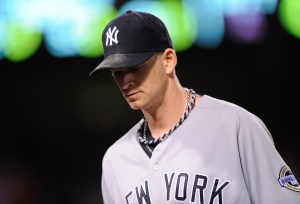 One consequence of the Yankees having a vastly higher payroll than any team in the league is that every time they lose—as they did last night—everyone trots out the paychecks for the day's scapegoat. So the Daily News can't help but remind us, in the first paragraph, that A. J. Burnett "didn't look at all like the guy the Yankees saw as a big-game pitcher when they gambled $82.5 million on him last winter."
George Vecsey opts for the full balance sheet in a Times story about how all the teams this year have high payrolls. It's kind of a tough day to pull of that story—what with one of the Yankees' high-priced free agents not pitching so well—but Vecsey points out that there really aren't any charming Cinderella teams from the Midwest this year. He manages to get in a parenthetical dig at the Mets, too, who had the second-highest payroll behind the Yankees. "(I'm not quite sure the Mets fielded a team this season. I will have to go back over my notes.)"
The Post goes relatively easy on Burnett, saying he "placed them in a cavernous crater early," but the columnists must be feeling pretty good about the Yankees' chances with a 3 games to 2 lead, because they don't bury him quite the way the Daily News does.
Over in Brick City, the Nets are praying that Russian billionaire Mikhail Prokhorov gets approval from the NBA to buy the Nets, so he can spend Yankees-type money shoring up a roster that should be pretty bad this year. Prokhorov, who got his start selling jeans in Russia, was in midtown yesterday meeting with Commissioner David Stern to talk about the potential sale, according to The Times.
"I would say that he came off as a very intelligent businessman, with a good sense of humor, sort of an ability to get outside of himself and laugh a little bit," Stern told a small gathering of reporters.
Rex Ryan isn't laughing about a couple of his players who were caught throwing punches after that embarrassing loss to the Bills on Sunday. Ryan suspended each of them for Sunday's game against the Raiders. Ryan's father, Buddy, you might recall, famously punched a fellow coach on the sidelines.