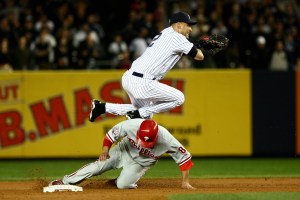 "Spanked!" screams the Post's front cover this morning, although it's not exactly true. Pedro Martinez gave up two homers in a little over six innings last night, and most of the sportswriters praise the 37-year old–who once called the Yankees his "daddy"–for a gutty performance. "[T]he Bombers didn't exactly reassert their paternity with an exclamation point," writes Bart Hubbuch in the Post.
So while everyone gives Martinez his due, they really celebrate A.J. Burnett, along with collectively redeeming Mark Teixiera, and wondering about Alex Rodriguez.
The Post and the Daily News have a little disagreement over the key double play that ended the eighth. "They Blue It!" says the Post, which declares the call–which would have kept the eighth inning alive for the Phillies–"botched."
Mike Lupica would seem to disagree. He writes his whole column around that one double play, which allows him to extoll Mariano Rivera and Derek Jeter at the same time. "Utley was out by a step," Lupica writes. "Or safe, if you're a Phillies fan." The Post has yet to respond to the allegation.
Oddly, the most enjoyable column this morning is Flip Bondy's in the Daily News. Bondy accuses the Bleacher Creatures of having "too many conflicts of interest these days." He's not impressed that Tina is marrying MTA Joe, or that Luigi Castillo wrote a book, or that Knuckles has sold his tickets for a few hundred bucks. And Knuckles isn't happy with Bondy.
"Knuckles was threatening a lawsuit against me, because I mentioned that he put his tickets oneBayand that some Section 203 fans weren't thrilled with that."
But Bondy does his due diligence.
"it is my responsibility as a journalist to give the other side, as related by Knuckles in lengthy e-mails. Knuckles reports he suffers from a very rare genetic disorder, Maffucci Syndrome, of which only 100 cases have been reported in this country. This means that he limps and is always in pain.
Knuckles tells Bondy that he often gives his tickets away. But Bondy stays on the case and asks the people in Knuckles' seats, who say they paid handsomely for them. As a result of Bondy's investigation, Knuckles tells him that he's relocating.
"I am asking next year the Yankees to move my three seats to another section in the bleachers so nobody knows my business and what I do with my tickets," Knuckles writes.