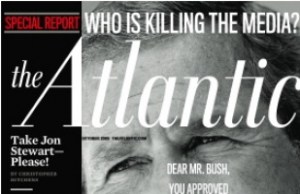 Ad Age has named James Bennet, editor in chief at The Atlantic, their Editor of the Year. Bennet has been at the magazine since 2006, when owner David Bradley tapped him for the top post. Bennet was a longtime Times reporter without tons of editorial experience; Bradley called him "a profound and extreme talent who led quietly." At the time, Slate's Jack Shafer interpreted it as a big-personality owner's efforts to steer the magazine in a new direction:
If I channel Bradley correctly, I think he hopes to make the Atlantic Monthly—make that the Decamonthly, as it only comes out 10 times a year—a luxury good that justifies its high price, like designer water. No thinking magazine on the newsstand occupies this niche. . . . If luxury idea magazine is the direction, the Atlantic should read like literature and look like art, making every issue an event.
But "luxury idea mag" no longer sounds like such a great plan, Bennet's success has taken a different form. The Atlantic's online ventures have been earning plenty of attention—Gawker calls the magazine is "as robust and thoughtful online as it is in print." Says Ad Age:
Back then, Mr. Bradley told the Times that he believed Mr. Bennet had a "selfless nature" which would make him a great steward of the now-152-year-old institution. He was right about his new hire, and prescient about a coming shift in the culture of magazines. Three years later, we're in a post-celebrity-editor moment; gilded-glossy chiefs — those who are left, that is — have become caricatures in all the wrong ways (suddenly their imperiousness seems more about desperation than entitlement) as they rule rapidly shrinking kingdoms.