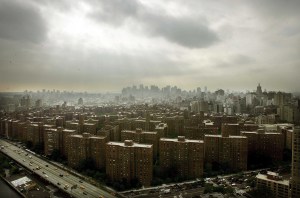 If the saga of the Stuyvesant Town-Peter Cooper Village sale is a countdown clock-the $5.4 billion purchase by Tishman Speyer and BlackRock is nearing default-there's a loud ding every few weeks in the form of a new analysis by a real estate tracking firm.
Each shows a fresh, dismally depressed value for the property ($1.99 billion based on current income), and tells of the new low level of the reserve fund meant to cover debt payments ($24 million).
But within the numbers in the latest report, released this week by the firm Realpoint, is another tale that serves to illustrate how this deal was, in retrospect, doomed from the start, even beyond the inconvenient timing of buying at what turned out to be the market's sharp peak.
The report found that as of June 30, for every four deregulated market-rate apartments in the 11,000-unit complex, there are now six rent-stabilized apartments, a level far below the landlord's expectations.
This ratio-the proportion of deregulated apartments to stabilized apartments-had been a major component to making the deal work on paper when Tishman Speyer, controlled by co-CEOs Jerry and Rob Speyer, planned out the purchase three years ago. At the time of the sale, the vast majority of tenants (73 percent) had their rents restricted by the rent-stabilization program. These apartments are far more valuable when deregulated, which can generally only occur when they turn vacant or when their tenants are evicted for violating their leases.
But the Speyers saw this as territory with huge revenue potential, and they were determined to step up efforts to rout out stabilized tenants who had illegal subleases or second, primary homes.
At the time of the late 2006 sale, there were 8,038 stabilized apartments and 3,189 deregulated units. The latter had grown over time, and during the four years prior to the sale, the previous owners had deregulated an average of 6 percent of the stabilized stock annually, according to Realpoint.
The Speyers were far more ambitious. Based on statements in a 2007 document attached to debt on the property, they planned to deregulate an additional 3,000 apartments over the ensuing four years, a pace that comes out to more than 9 percent of the stabilized apartments annually. They hired a private detective to scour public records and find stabilized tenants who might not actually live in the complex; they tried to remove far more tenants for violations than the prior owners had.
The result of all their efforts: The pace of deregulation actually slowed.