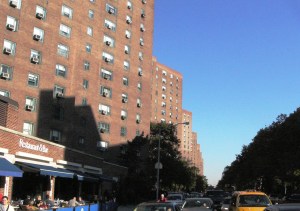 With all the great press coverage it's been getting lately, one might think people would be rushing in hordes to snap up apartments at Stuyvesant Town.
The 11,200-apartment Stuyvesant Town and Peter Cooper Village complex has shut its doors to new renters, as the owners, a partnership led by Tishman Speyer, try to figure out what in the hell to do in the wake of last week's monstrous court decision.
"We are not signing new leases at this time," a Tishman Speyer spokesman, Bud Perrone, said in a statement. "We are reviewing the ramifications of the court's decision."
The state's top court ruled that the owners had improperly taken more than 4,000 apartments out of the rent-stabilization program, boosting up rents to market rates.
This opened a tremendous amount of questions, with answers offered for none of them: What to do with the apartments that have been deregulated and currently have market-rate tenants? Should the tenants get refunds? What about former tenants? Should vacant market-rate apartments have their rents lowered? Or just entered into rent stabilization at their current rates?
Now Tishman and its partners and lenders must wait until the legal system slowly chews and digests these questions before any clarity; but in the mean time, the firm has to figure out what to do with new rentals and existing tenants paying market rents.
That leads to a few bits of news that emerged around the Web, such as an advisory letter from the tenants association that suggests people keep paying their rents in full, and reports of the closed leasing office.
ebrown@observer.com