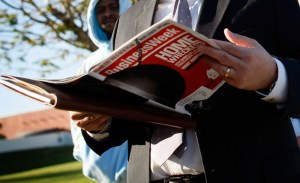 BusinessWeek editor Stephen Adler will be leaving when Bloomberg LP takes ownership of the magazine in December. He informed his staff in a memo last night, and now it's open season for speculation as to who should take over.
MarketWatch's Jon Friedman mentions Joanne Lipman as one of the leading candidates. Her name has indeed been floating around in the week since the sale: Norm Pearlstine, the chief content officer at Bloomberg, is a fan of Lipman's from back in the day at The Wall Street Journal, and she was in charge of another high-profile business magazine–Portfolio, which, as Friedman delicately puts it, "Conde Nast stopped publishing a few months ago."
When Portfolio was born in 2005, it was "the Last Great Magazine Launch" and Lipman was a rising star. But when John Koblin did a post-mortem this spring, after the magazine had published its final issue, many staffers raised questions about the role her leadership played in its demise:
"Joanne was never interested in ideas," said Nancy Hass, who was hired to write the text of the prototype and who later signed a contract (that was eventually dropped) and who is married to Bob Roe, an editor who was fired from the magazine. "She would say things like, 'Let's do charticles!' She wanted lots of those. That's what she thought was an idea."

"My criticism is that she didn't have a strong vision," said a current staffer. "She might have had a vision, but she didn't have the courage of her conviction to carry it out. She was always buffeted by the last person she talked to."
Of course, there were also larger forces at work:
The story Ms. Lipman told about a dozen staffers on Monday was that the magazine folded because the economy it was built to cover collapsed.
Whether it's Lipman or someone else, BusinessWeek's new editor will have to build a magazine to cover a very different economy.