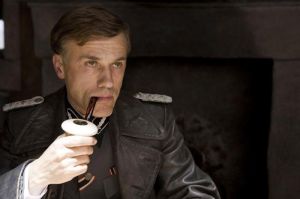 Pop quiz, hotshot: can you successfully name the five 2008 movies nominated for Best Picture at the most recent Academy Awards without resorting to Google? We didn't think so. And yet, if 2008 was a forgettable bore for Oscar movies what does that make 2009?
(For the record, the nominees were Slumdog Millionaire, The Curious Case of Benjamin Button, Milk, Frost/Nixon and The Reader.)
The lack of quality films dawned on us last weekend when we saw a "For Your Consideration" ad for Betty White and her supporting performance in The Proposal. Yep, you read that correctly: The Proposal. Clearly this nomination won't happen, but what's scary is that it's not hard to imagine a scenario in which it does. Never mind that The Proposal was generic romantic comedy pabulum, served cold and wrapped in the admittedly strong charms of Sandra Bullock and Ryan Reynolds. Besides Ms. White, who else is even in the running for Best Supporting Actress outside of the apparently self-sabotaging Mo'Nique in Precious and the entire female cast of Nine? And it's not just Best Supporting Actress that's weak: across the board it's hard to find any standouts period. Christoph Waltz was very good in Inglourious Basterds, but in a normal year we wonder if he'd even get a nomination; in 2010, he'll be a favorite.
Taking it even further, by this time last year eventual winner Slumdog Millionaire had built up strong festival momentum and advanced praise, the campaigns for The Dark Knight and WALL*E were in full swing, and the buzz on Milk and Benjamin Button were deafening. However, now, with the exceptions of Up in the Air (the belle of the ball at the Toronto International Film Festival in the same way that Slumdog Millionaire was), and the aforementioned Precious (an Oprah Winfrey endorsement and a massive New York Times piece will do that), a Best Picture frontrunner cannot be found. Even Clint Eastwood's Invictus, an assumed lock for multiple nominations, looks decidedly blah based on its first trailer.
This would all be fine, but for the fact that the Best Picture category has expanded to ten nominees. How is the Academy going to fill up ten slots when they can barely come up with enough for five? We hope you're ready for the admittedly awesome Star Trek to be called a "Best Picture candidate."
But, hey, such is the state of the Oscars, an awards show that feels perilously close to the edge of irrelevancy—not because of problems with its telecast—because there is a lack of compelling movies. If only Ricky Gervais were hosting, maybe we'd be excited for the Oscar season anyway. Oh, wait…