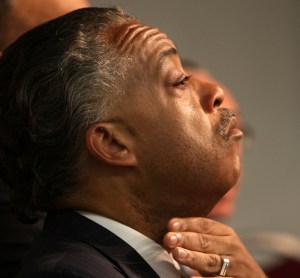 Sounds like there was an awkward moment between Governor David Paterson and Reverend Al Sharpton last night at Soho Grand, where Sharpton was celebrating his 55th birthday with Spike Lee, State Senators John Sampson and Malcolm Smith, and Council Speaker Christine Quinn, among others.
According to the Daily News, Paterson tried a joke about the hierarchy within the sprawling kingdom of Sharpton supporters.
"It's kind of like a family, and he's like the prince," Paterson joked. "I've moved up to king."

At which point, Sharpton grabbed the mic and said: "The only way I can be king is to kill the king."

Paterson said: "I hope my security team is (nearby)."
Then there was nervous laughter from the crowd. And while Paterson might be getting used to that kind of response, it doesn't bode especially well for the governor, given that Sharpton's dogged support has waned quite a bit in recent months.