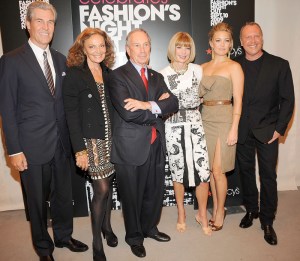 Fashion's Night Out was sort of sad for those of us who subsist on frugality and free stuff: one champagne flute at Barneys does not a wild night make. But among industry sorts and Mayor Bloomberg, the event was "widely considered a success," writes WWD. So they are delighted to announce that the event will be returning for a second time next fall:
CFDA's Kolb said even though the economy is expected to be in recovery by fall 2010, Fashion's Night Out still serves an important purpose. Once again, the night is scheduled at the start of New York Fashion Week, and the spring shows will run Sept. 9 to 16. "You often talk about fashion week and it being a trade event that isn't accessible to consumers," Kolb said. "This gives consumers a way to celebrate fashion in a direct way."
Still, people remain a little waffly on the actual sales Fashion's Night Out generated:
While retailers were pleased with the turnout at the first Fashion's Night Out, several did acknowledge there was far more partying, gawking at celebrities and autograph-hunting than shopping. But retailers still felt the event did a lot to elevate the industry's image and at least put some people in more of a shopping mind-set.

And there remains a groundswell of support for repeating the initiative. "I thought Fashion's Night Out was a terrific event," said Stephen I. Sadove, chairman and chief executive officer of Saks Fifth Avenue. "It generated traffic and excitement around fashion. It was very focused. It was never designed to generate huge sales, but I do believe incremental sales were generated by the event."
Ah yes, raising awareness: a strategy that works for retail as well as cancer research. I, for one, am highly aware of Alexander Wang, but awareness doesn't buy me $690 shoes.