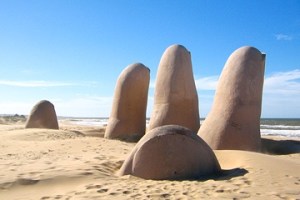 "Almost no one knows about this place, so it's a secret nearly too good to share," says our editor Chantal about this new guest house right on fashionable Brava beach in José Ignacio. "The 8-room posada opened quietly during the 2007/2008 high-season on the second floor of the clubhouse at Club de Mar, a private residential community where many well-heeled Argentines have their summer homes, and where I happened to be renting a villa with friends. Some of my housemates discovered the posada and moved down there last minute for its better beds and peace and quiet! The hotel is a find because it gives non-residents—especially couples or friends not traveling in a big group—access to the club's pool, tennis courts, and serviced beach area with chaises and umbrellas; lounge there all afternoon and have food and beverages delivered from the restaurant (although the food is just average). Guest rooms are super spare with glossy hardwood floors, white walls, drapes and linens, and just a touch of color provided by pillows and alpaca throws. Each has a private balcony, but of course the ones facing the ocean are best; the others overlook the pool, which can sometimes be a little noisy with kids. Wi-Fi is available, breakfast is included, and the downstairs bar and restaurant is a relaxed, shady escape from the hot sun. Staffers at the clubhouse are laid-back and friendly youngsters, not all of whom speak English, but this little spot is all about location, location, location—the white-hot social scene at restaurant La Huella is just a short stroll up the beach."
Room rates start at $500.
www.laposada.com.uy | Phone: +598 486 2172
Eugenio Saenz Martinez Road, Route 10, Club de Mar | José Ignacio, Punta del Este Uruguay
Suzanne Aaronson, Co-founder of Suzanne's Files, is our Travel Curator. Stay in-the-know on her latest finds and insider tips by signing up to receive Notes from Suzanne's Files, a free e-newsletter.