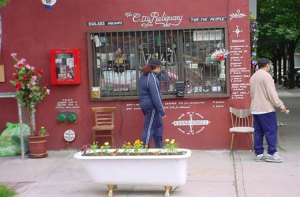 I stood outside the City Reliquary and waited for the president and founder to arrive.
There's a vaudeville streak in the appearance of the reliquary, a not-for-profit "museum and civic organization" on Metropolitan and Grand in Williamsburg. The front door is red and painted with an ominous, snakey design in gold and black. On either side there are showcase windows containing a collection of copper jelly molds, and opposite them, blue plastic flowers wrapped around photographs of Miss Subway.
After a minute, the man I had been waiting arrived, carrying a baby. (It was a Thursday, and on weekdays the Reliquary is made accessible to the public by appointment only.)
The man, Dave Herman, is a 33-year-old firefighter—his firehouse is on South Second Street, between Driggs and Bedford—with a trustable face and the build of a former football player. He apologized for being about a minute late and, as he opened the door, for the fact that his neighbor could not take care of the baby, his one-year-old daughter Rosie.
Inside, there's a real front desk and few shelves of items for sale, including soil samples from the five boroughs and books on New York history. There is also an enormous, elaborate chandelier that flashes in the dimly lit room. Herman would tell me later that there's another chandelier in the bathroom which, according to Herman "looked horrendous. And it's still not great ,but now it's like a super-fancy horrendous."
The City Reliquary is a funny, unlikely institution. In 2002, when Dave Herman was living down the same block in an apartment that happened to have a store window, he decided to begin putting old New York items in the window. The first relics, Herman said, "basically was stuff that I had. Some of it was stuff from being a kid, and my family. I grew up in Florida but my family of both sides is all from New York and so they would constantly have little souvenirs, stuff from the World's Fair."
He did it, he said, because of gentrification.
"I had been in the neighborhood for a few years at that point, and I was realizing that I'm part of this wave of massive change that the neighborhood is going through."
The original purpose, however humble, was to be "a positive part and not a negative part" of the changes. It was an effort, Herman said, as "a way to kind of bridge that seemingly gigantic gap between the people who have lived in the neighborhood for 40-plus years and the people that live there for four months and act like they've lived there for forty years."
Displaying those first items, Herman said, "was successful in the fact that I was trying to throw something into the public that would create a conversation. And a lot of people did start stopping by and knocking on the door and saying, 'What is this place?'"
Then he started leaving cards with an email address outside the window, and after that he installed a "a button and a loudspeaker," which he said "would go, you know, 'Welcome to the city Reliquary!'"
Asked who made the recording, Herman replied "I did," in a way that suggested he did not often have to answer the question.
He started asking other local collectors to display their curiosities in the windows. There were now three windows.
"The first few people were actually taking ownership over it, which is what I was hoping for—putting something in the public realm," he said. "The point of doing this was to make people feel and inherent pride in their neighborhood and take notice of it more."
He and the newer participants began to think, loosely, about forming a nonprofit.
"And I was always happy and proud to see people come by and bring their friends and give a tour, you know, like, 'This is my neighborhood.'"
After about a year, there were thoughts of starting a nonprofit.
The City Reliquary began to throw events to raise money.
"It grew from little sidewalk receptions at the front of the window, with like refreshments and stuff, to then expanding on it and inviting a lot of people and closing down the block and having big block parties.
"Those little receptions we would kind of put out a donation jar-the same one we still use now–and collect maybe a hundred dollars. That would be a good night— and that was enough to run the window for a month. Then at the bigger events, we'd try to raise a little more money."
The success of the parties convinced Herman and his volunteers "that we should continue this and take over this space when it became available."
In January of 2006 the reliquary moved in.
There are two rooms behind the front desk, the first containing the permanent collection, and the second dedicated to rotating exhibits.
We went into the first room, the permanent collection. What stood out at first is a display of what looks like thousands of replicas of the Statue of Liberty. There are ones made of bronze, and of plastic painted bronze. There are models in pewter, glass, marble that may or may not be fake, and marble that is fake. One has a small orange light bulb as its torch.
One is at least three feet tall, some are barely an inch or two tall. There are Statue of Liberty replicas in the chandelier over the front desk, which was a "garbage find," laboriously restored by the vice president of the reliquary.
"Some of the Statue of Liberty things actually came when we were at the windows [not yet at the space]. People would leave one that was maybe missing a crown or looked like it needed a good home or something like that. They would leave it behind the bars of the window, kind of jammed between the glass."
Other than Statues of Liberty, the long case holds a rusty shovel labeled "very old shovel," rusty hammer, brass spring, and many, many replicas of the Empire State Building.
In the center of the room there's a case containing about a dozen chunks of rock. They are pieces of the Waldorf-Astoria, the Mormon Temple, the Plaza, the "very front top corner" of the Flatiron building, a gargoyle from the Rodin building and a Cobble Hill cobblestone.
These, Herman said, "are thanks mostly to a friend that does restoration. They get the real, original piece and then they have nothing to do with it once they've fixed it."
A couple of old brass straphangers are installed in the wall at the end of the room, within reaching distance of someone who is at least five-foot-six. There are also some marks in the wall where one used to be.
It's a bit of a problem.
"One of those fell down. People love to put all their weight on them," Herman explained. "We've tried all different things. At first they were secured very well to the wall—but it is only drywall—we didn't, like, put an I-beam in there just for these."
But "then someone ripped out a hole this big out of the drywall. So then Bill [the vice president of the City Reliquary] thought: 'I'll just put them on little picture-hangers so as soon as you touch them you'll realize, 'I shouldn't really put my weight on here,'" Herman said. "But they were designed for it, so people feel the need to put their full weight on it."
Herman did not seem to have considered a Do Not Touch sign. (At that point I realized I hadn't seen any.)
The criteria an object has to meet to be admitted to the reliquary's collection is, according to Herman, that it has to relate to the history of the five boroughs. And it also has to be approved by the board.
At the moment the Board of Directors has nine members and meets once a month to "discuss what events are coming up, what type of grants we may have to apply for and other stuff like that."
Herman strived for diversity on the board. He references Bill Scanga, the vice president, frequently, because they work closely together. Scanga has "a background in art" and works at a gallery in Manhattan. Others members include a professor from Long Island University, a tour guide, a programmer for Transportation Alternatives and a geologist. They all have a penchant for collecting things, Herman said, and items that come in, other than donations, might be from a flea market, the street, or eBay.
Visitors to the reliquary are equally diverse, or random.
"There's a good amount of pedestrian traffic headed to the subways stations [Lorimer L and G]," Herman said, but he also mentioned people in the neighborhood who see it every day and are curious, and travelers from far away places like New Zealand and Germany.
"That always baffles me—is that people from all over the world have said they specifically for us. I'm like 'We're some little off-the-beaten-path, tiny museum, and they're like, that's exactly what they were looking for."
The reliquary pays $2,500 per month in rent, which is not a ton of money for the large space, but is a lot of money for the small operation. It survives on the revenue from events ("with the exception of one or two like $500 grants.") the way it did as a store window.
The day I was there a band a Florida-based band called Holopaw, in town for the CMJ festival, was going to play a concert in the museum's long, narrow backyard, where the ground is mostly packed dirt and there is one tree.
There was in the coming days to be a Halloween party and a theater performance. Recent events include a bake sale and "Bicycle Fetish Day."
"We break even, occasionally fall a little behind. But—" Herman paused.
"We're still here. After three years running in this building, we're still doing it."
I asked Herman why is called the City Reliquary. "The word just very simply means holder of relics. It's more common in Catholicism, I think," he said. "They'll have a tiny little shard of some really significant thing and then they'll embellish the holder to show the significance of this seemingly insignificant artifact. And in a way that's exactly what we're doing for the city. We've got lots of bricks and rocks and stuff that, without the encasement, seem like nothing—we could have picked it up off the side of the road and in some cases we did. But once you put them into the special holder you can share the significance of that and the history that it represents."