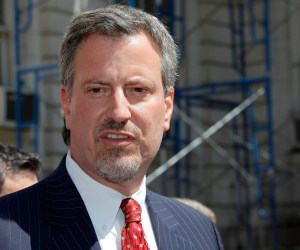 After their very public cup of coffee on Wednesday, Mayor Bloomberg announced yesterday that he'll float incoming public advocate Bill de Blasio $850,000 dollars in a November budget modification to prop up the public advocate's office through the end of the fiscal year.
It's an interesting shift for the humbled mayor. Just last month, the mayor called the public advocate's office "a total waste of everyone's money," and he had pushed a 40 percent cut–a difference of just over a million dollars–in this year's budget. The current public advocate, Betsy Gotbaum, hadn't adjusted her spending to reflect the reduced budget number, and so she had gone through most of the year's budget–raising questions as to whether Mr. de Blasio would be able to hire sufficient staff and pay his own salary.
But the mayor is apparently feeling sympathetic–even a bit charitable–these days.
"He will be held harmless for the overspending by his predecessor," Stu Loeser, the mayor's spokesman, told the Post.