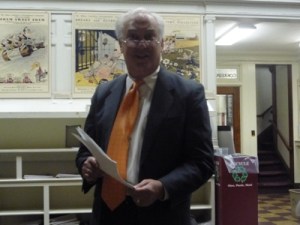 ALBANY—Assemblyman Richard Brodsky just swung by to announce an agreement between legislative leaders and David Paterson to increase oversight of public authorities.
"It's an idea that is about the control of rogue institutions. I've called them Soviet-style bureaucracies. This is the end of that era," Brodsky said. "For people worried about debt reform or who are worried about secretive decision making or who ware worried about people taking political orders and about people lobbying without disclosure."
Both the State Senate and Assembly passed a bill this spring that would have strengthened the authority budget office–it will have subpoena power and will keep on file copies of required documents–create a fiduciary duty for authority board members, sell property only at "fair market value" and require review by the state comptroller of contracts over $1 million.
David Paterson objected to the bill that passed, and it was kept off his desk as negotiations with the sponsors–Brodsky and Senator Bill Perkins–continued. Paterson was concerned that the contract review would be unworkable, and Mayor Michael Bloomberg felt that the inability of authorities to sell property cheaply would hinder efforts to develop affordable housing.
Brodsky said that the original bill will be signed, and that both legislative houses will pass chapter amendments to ameliorate some of these concerns. For example, according to a summary provided by Brodsky, sale of property "below fair market value sales permitted if it is within the mission of the Public Authority, as defined by their authorizing statute."
"The M.T.A., for example, could not longer sell property at below market value for economic development purposes," Brodsky explained. Other authorities whose explicit purpose was economic development–or housing development–could. This would preclude development projects like the Atlantic Yards and Hudson Yards. The chapter amendments also reduce the number of contracts the comptroller is required to review.
This is a big political feather in Brodsky's cap. He is mentioned as a possible candidate for attorney general should Andrew Cuomo admit he's more interested in running for governor than re-election. Brodsky ran for the office in 2006, but ended his bid when his daughter became ill.
Brodsky said the Assembly will pass the chapter amendments today. He said he was told senate leaders would pass the bill as well.