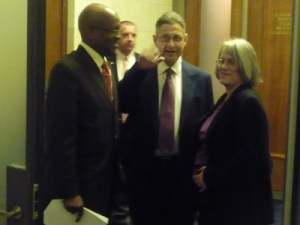 ALBANY—Assemblyman Peter Abbate walked out of the member's lounge in his chamber and tried to snag a seat on a bench when someone asked him what was going on.
"Nothing," he replied.
It's a classic hurry-up-and-wait situation here at the Capitol. The Assembly was scheduled to go into session at 3 p.m. I saw Abbate at 4:20. State Senators are sitting in a closed conference, with demonstrators in favor of same-sex marriage and stronger tenant protections lining the halls outside.
"Well we're printing bills–some agreed bills–and we continue and negotiate with members in relevant areas," Sheldon Silver told me walking toward his office, after waving for a photo.
Official staffs are trying to negotiate a deficit reduction package, the major sticking point being the State Senate's intransigence with $1.3 billion of cuts to health care and education proposed by David Paterson. There are also negotiations going on over a new pension tier, a spending cap and some kind of legislation to stiffen penalties for drunk drivers. But agreements are elusive.
"We are at a new plateau with the governor in conversation and negotiation," State Senator Kevin Parker, a Brooklyn Democrat, told me earlier.
"There's no problem," Silver said when asked what the problem was with the budget.
As the top officials–Silver, Senate Democratic Leader John Sampson and David Paterson–determine what to do, members wait in legislative purgatory. Many groused last week that this would happen if they were called back without any agreement on what to do. They were right.
"I'm going through constituent cases and reading lengthy things I don't normally have time to read," Assemblyman Dov Hikind, a Brooklyn Democrat, told me, saying he found "peace and quiet" in the chamber.
"We're waiting…for the Messiah," he said.