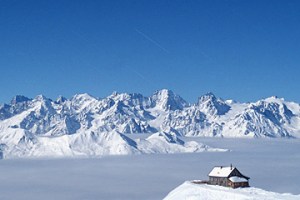 I'm lucky to have many friends who know Verbier well. Insiders and good friends Eva Hoeffelman & Anthony de Heinrich have been coming here since they were children and luckily for us, are foodies! Here's their combined take on dining in Verbier and from my stays in this alpine resort town, I couldn't agree with more.
L'Olympique
Best lunch on the slopes, L'Olympique is also accessible for non-skiers. There is a wonderful terrace to tan when the sun is out. Walls are cleverly decorated with Winter Olympics memorabilia and signed photos of the celebrity diners who like it here too.
Phone: +41 27 771 2615
Le Cristal
A new kid on the block, a few Rotterdam investors have revamped the old Ruinettes restaurant with its beautiful terrace. The interior is much improved and the large terrace is nicely refurbished with a fun bar area. The food, although not cheap for a mountain restaurant, is good but the service still needs a lot of looking after…
Phone: +41 27 765 1823
Cabane du Mont Fort
Still the most rewarding and original 'skiing lunch' at high altitude. The view is breath-taking and although the queue to order outside on the terrace can be a real challenge, the kind service and best cheese fondue make up for it … or is that because you have skied so much … This old mountain refuge gets crowded so arrive as early as possible!
www.cabanemontfort.ch | Phone: +41 27 778 1384
Le Carrefour
Consistently the best place in town (easily accessible to skiers), to catch the sun— from early lunch to late tea to aperitif time. Lots of roesti and meat you can grill yourself on a hot stone. Delicious soups and salads. Perfect ski cuisine.
www.lecarrefour.ch | Phone: +41 27 771 5555
Chalet Blanc
A private club for members only, based on the idea of the Eagle Club in Gstaad and the Chesa Veglia in St Moritz, Chalet Blanc is mostly for lunch and private parties at night. (You must be with a member or can call ahead to see if lunch is possible for non-members with an added surcharge.) The decor is gorgeous, the lounge upstairs a real treat and the creche for the children a plus. NB: everyone agrees the kids playroom could be larger and have a nice small lunch table, there's room for improvement. The club allows for off-peak temporary membership in return for a small fee and an introduction by a member. The food is still touch and go but we'll forgive them as it's their first season …
Le Chalet d'Adrien
The lovely sunny terrace has the most gorgeous view onto the village. I enjoyed the food at the brasserie (and terrace) very much; I hear breakfast is delicious and homey. Expensive, though. Beware that even the kids meals run a silly tab here.
www.chalet-adrien.com | Phone: +41 027 771 62 00
Chez Dany
The resort's best known eatery, on the ski route from Les Ruinettes down to Medran, surrounded by forest and with awe-inspiring views over the 4,314m Combins Massiv and the Bagnes valley. The food is not nearly as good as it used to be … but still worth a lunch if you have the days to spare. Can be fun for evening too, as they will skidoo you up and sled you back to your hotel or chalet after dinner. At least go for a chocolat chaud—it's a pretty 15 minute walk from town if on foot.
Phone: +41 27 771 2524
Best For Dinner
Le Rouge
The newcomer and immediately Verbier's hippest restaurant at night with an international and creative menu, and a cozy, hip bar upstairs. Le Rouge attracts a good crowd and overall nice scene. In the spring, the terrace has become a hotspot for apres-ski. Personally, I loved the music, vibe and food here (Suzanne).
lerouge-verbier.com | Phone: +41 27 771 8000
La Grange
Divided between a restaurant and a brasserie menu, La Grange offers a beautiful meal in a traditional Swiss, and slightly refurbished environment. Within a two minute walk from the Farm Club, or the Nevai bar, this restaurant is a winner—cozy and romantic.
www.lagrange.ch | Phone: +41 27 771 6431
Marlenaz
In the quieter Savoleyres area, this is my favorite (!) says Anthony de Heinrich. Nice range of cuisine, classic dishes and local ingredients. A bit off-the-beaten-path. The candle-lit nights are just stunning for a large group or romantic tete-a-tete.
www.marlenaz.ch | Phone: +41 27 771 5441
Le Vieux Verbier
The steady Friday night hotspot where people from Geneva or London dine as they have just come up to start their weekend. Solid Swiss food served in a kitsch interior with La Potence as main attraction. The atmosphere is lively and there is space for large groups/tables.
Phone: +41 27 771 1668
Le Hameau
Made smaller and more simple, the new restaurant of the Hameau complex of beautiful chalets and conference center, offers a high quality Swiss menu in the cozy environment of their former 'raclette keller'. Excellent value but the restaurant still needs to attract more of a crowd …
www.lehameau.ch | Phone: 0041 27771 7560
Netsu
If you have an extended stay in Verbier and have overdone it with the raclette and fondue, this spot is just for you. Located right in the center of town, Netsu offers good sushi and more in casual surroundings with high bar stools and tables.
L'Ecurie
Insider Anthony de Heinrich's favorite and with the locals too. The traditional Swiss dishes, homemade pastas and seafood pair nicely with the local wines. A family-run affair.
www.hotel-verbier.ch | Phone: 0041 (0)27 771 27 60
Suzanne Aaronson, Co-founder of Suzanne's Files, is our Travel Curator. Stay in-the-know on her latest finds and insider tips by signing up to receive Notes from Suzanne's Files, a free e-newsletter.