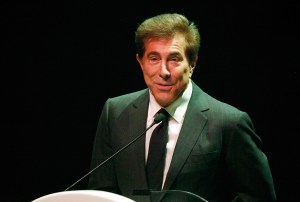 Steve Wynn won't be gambling on the Aqueduct Racetrack after all.
Today, Mr. Wynn pulled his proposal to develop a "high-end clubby" slot machine parlor in Queens, just weeks before state leaders are expected to announce a licensee for the site.
It's a surprising turn for the casino mogul. In August, Mr. Wynn sounded awfully excited about his first New York venture. "New York City is New York City is New York City," Mr. Wynn told Dana Rubinstein, adding that he had "$1 billion in cash in a bank, in T-bills."
It would appear Mr. Wynn isn't eager to liquidate those T-bills now. His decision comes just a week after Governor David Paterson asked the six remaining developers–now down to five–to prove they could pony up $200 million within thirty days of being selected.
Without Mr. Wynn, the front-runners appear to be Penn National Gaming, which had already proposed putting up $200 million, and SL Green, that vast empire of commercial office space, which released this statement:
"Our proposal has always been the best one to meet the needs of the State's taxpayers and the community. That's still the case. As we near the end of the process, we feel more confident than ever that the decision will be made on merit and that we will be selected."